Discussion Starter
·
#1
·
My good friend and colleague Woj invited Carlos and me to fish with him today. We has a good time - especially after we met up with Doug and Matt. It was a big eye opener for me. Let me start by saying that you never really know a guy until you fish with them in the rain from....the dark of morning through the hour of noon....in the month of April on the waning moon.
From the moment that the day was dawning Woj awaited the arrival of "the young one", as he called him, with great anticipation. And call him he did. Here he is reciting a Shakespearian lyric to Carlos in the twilight of the day.
Nearly an hour later as the parking lot became - well - a parking lot.....Woj was still at it.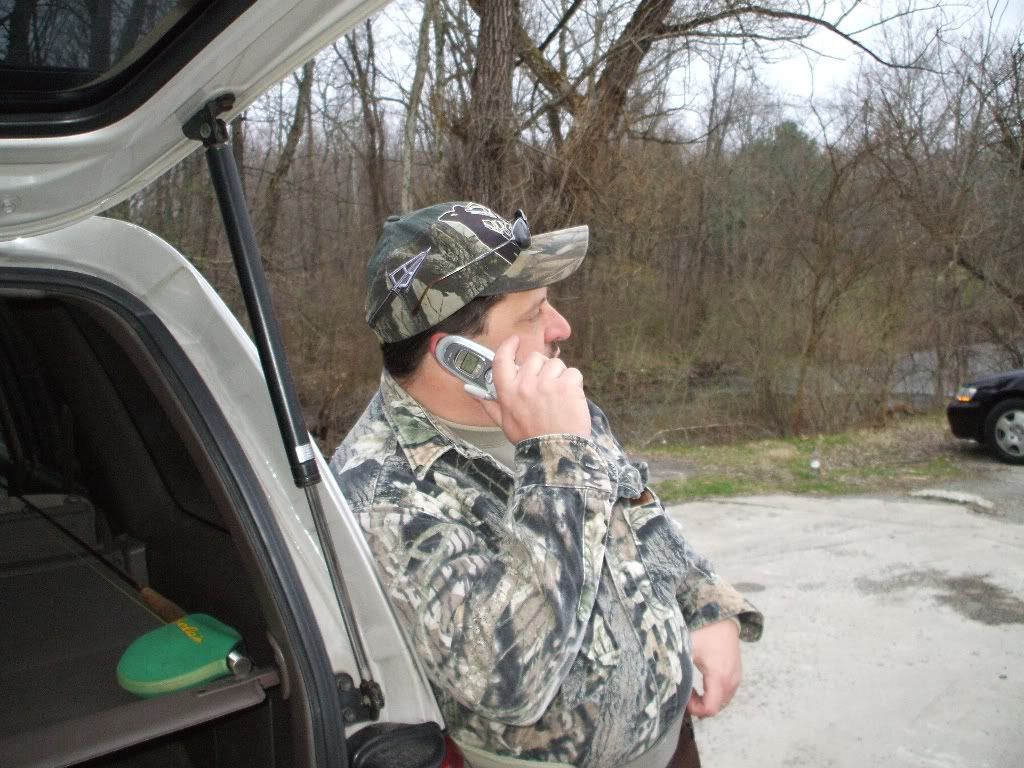 Finally....he arrived....Andrew was
very
pleased. When Woj told Carlos to "put on the high leggings - they are just what you need" - he was nervous about all of the attention being slathered on him. This shot says it all.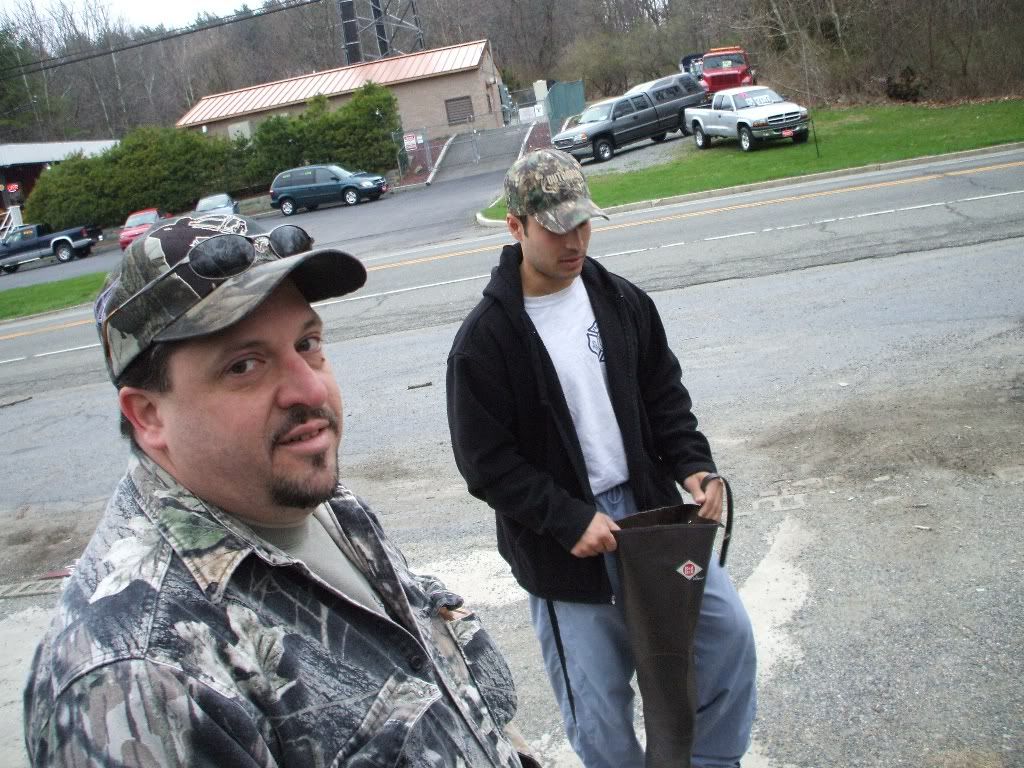 Next - Woj told him that he didn't want to fish around all the other guys....especially since there were all of those pesky trout in the water over there. He tried to lead him off into the woods. I told Carlos that I had his back so off we went.....into the dark forest.
Ultimately - Carlos realized that Woj was just being friendly and, with a smile of relief, dug his shorts out of his crack.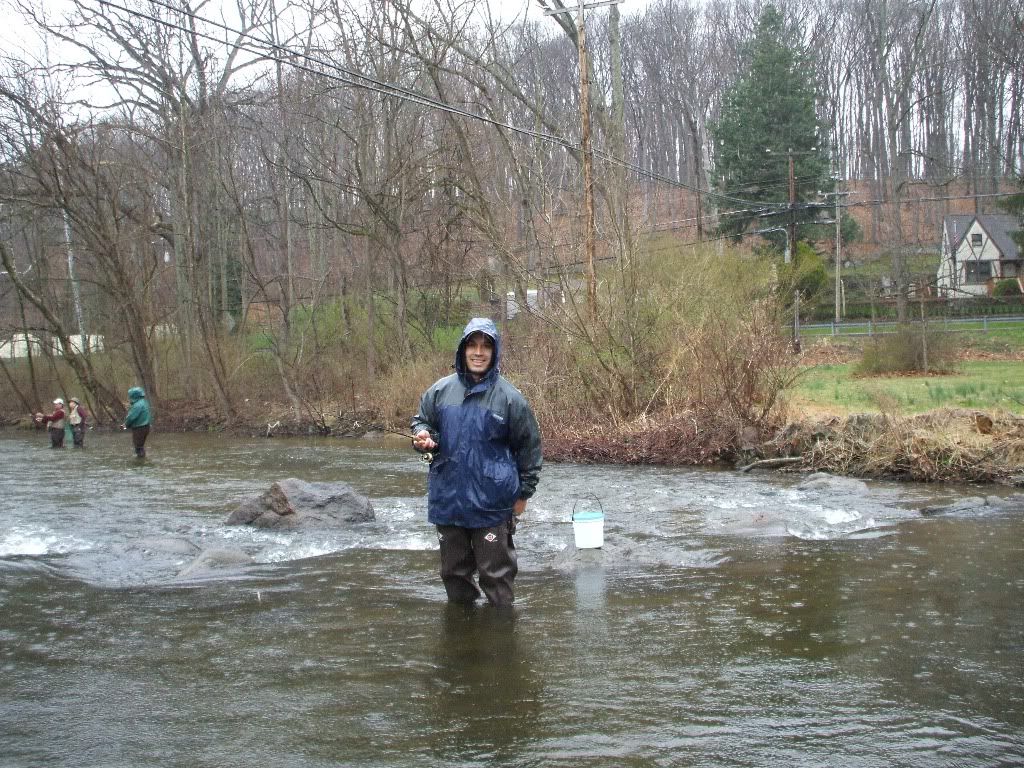 Soon after trying several dead zones we ran into Matt. He was catching fish so I immediately mugged him - just like he had taught me to do on some tog and flounder trips. He took it well actually. That guy on the bank, on the left, is MS22 Mike. He stopped by for a visit - ironically - right after Woj showed us all of his hunting spots.
File photo....MS22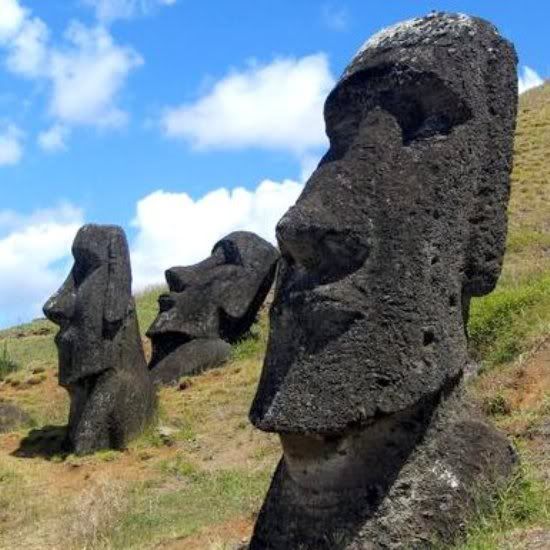 Next - I went to mug Doug. Mostly because it rhymes. As you can tell by his expression he was glad to see me and welcomed me to join him.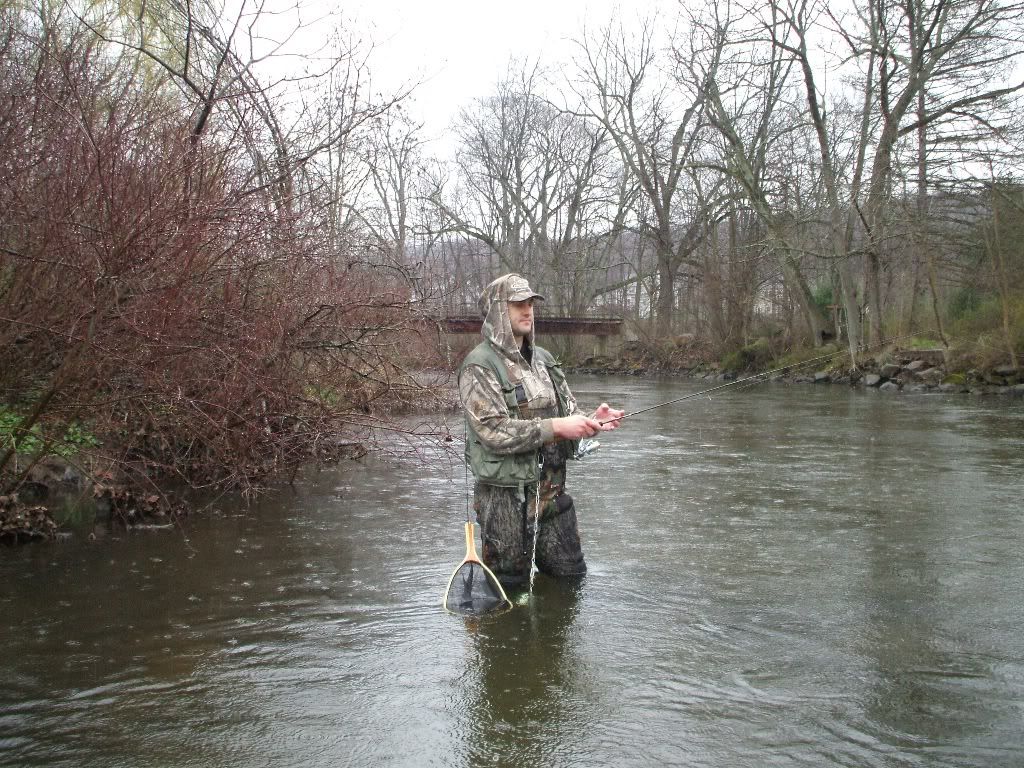 Then I caught this fish. I thought it was a smallmouth bass but Doug thought that the red eyes meant that it was a rock bass. Woj thought the red eyes were from the fish being up all night feeding. Matt thought that it was a smallmouth. And Carlos wanted to see if it could swim a straight line.
Pretty fish....
Now I have to tell you....Carlos caught fish and Woj did OK. Matt and Doug were hammering them and I couldn't catch a cold! We realized that my 8 pound test was too heavy for the clear water. As I stood on the bank - weighing my options - Matt shook his stringer of huge trout at me and taunted "whats the matter - you can't catch it unless it has a rattle on it's ass teacher boy." "Ha - why don't you try to gas em' dead with one of those farts of yours."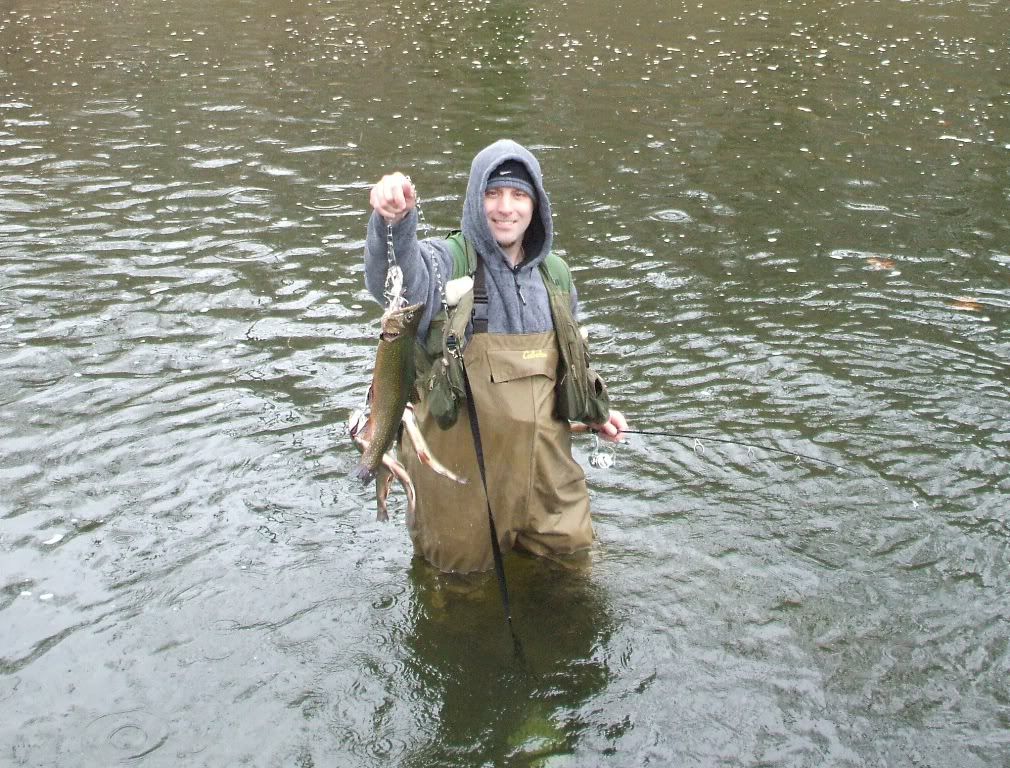 Then, as we were gutting fish, and I actually had a few - I performed the obligatory stomach content study. One of my fish had a fathead minnow in his gut. It must have been Dougs because I remember him saying, "don't come too close to me Tom - anything that I can touch looses and eye." It must be a custom or superstition of his. There were also numerous scuds in this fish. Very cool.
Later....as the day wore on....Woj's mystical properties showed themselves as Matt - after locking eyes with Woj - declared that his name was now Yusef Salam and pledged total devotion to Woj.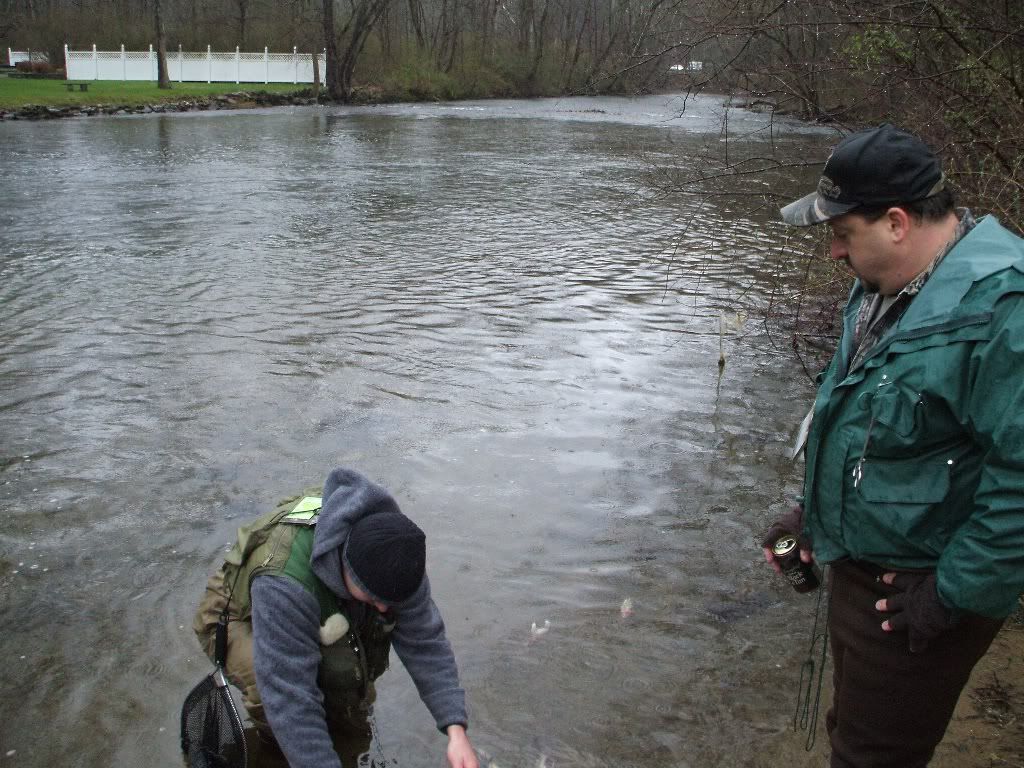 Then he offered up a sacrifice in his honor and Woj was very pleased....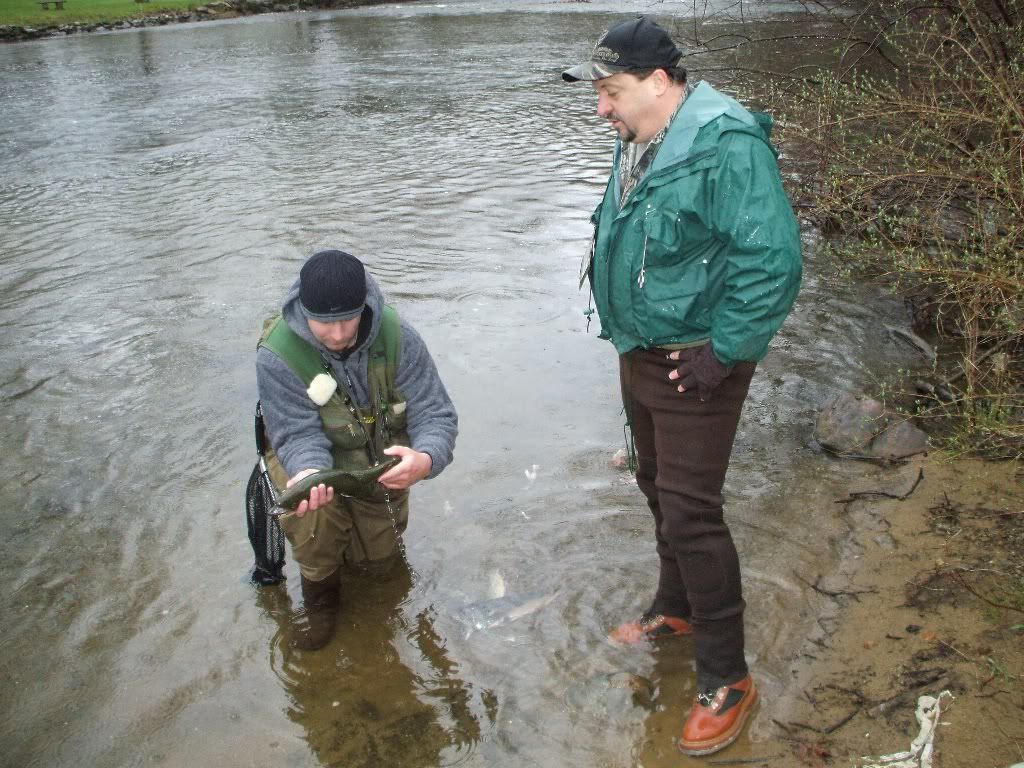 Matts hog of the day. A real nice brookie. Matt and Doug really beat on them today. Nice job guys and good times. Woj, Carlos, Matt, Doug and Mike are 5 of the nicest guys that you will ever spend the day with. Thanks guys - the day was great. We could have used a little more of that girl from the bait shop though.... [eek] [rofl]