Discussion Starter
·
#1
·
What a great day to be an archer and sportsman in Union County! After years of discussions, meetings, plans, meetings, and more meetings....we finally broke ground at the former Oak Ridge Golf Course in Clark. Mike Tully of the Individual Archers of Union County had a vision of an archery range and the dream has become a reality. On Saturday May 16, a team of 25+ volunteers gathered to build what will become the finest public archery range in New Jersey! The range is being built entirely by volunteer members of the following groups: The Cranford Rod and Gun Club, United Bowhunters of NJ (Tony Bretones-Union County Rep.), Mike Tully and Associates, Luis Sarmiento Jr. and Sr. (Accurate Fence), Traditional Archers of NJ, 4H, Boy Scouts, Individual Archers of Union County, Linden Sportsmen Club and members of the Union County Dept. of Public Works and Parks. We will have a range with 22 shooting lanes (To 90 meters), observation benches, a picnic area, bathroom facilities and handicapped accessability. The Freeholder Board has welcomed the archers and has been supportive from day 1...because the spokesmen of the various sportsmen groups educated them on the benefits of an archery range and its operation in their own back yard.
Great stuff!
Volunteers are the driving force behind this project and by this time next week, I will hopefully post pictures of the finished range...until then, here are a few from day 1 groundbreaking.
8:00 AM The Start of a Dream!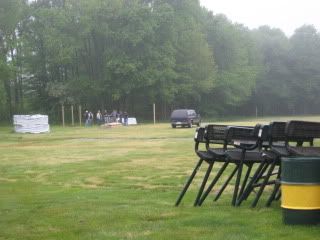 500 Feet of 4x4 fence posts/3 foot deep holes.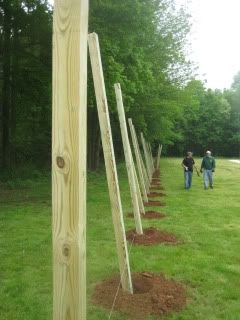 Getting it Done! God Bless the Sarmientos-Accurate Fence!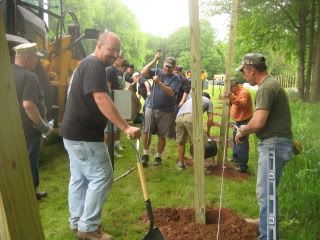 Lunch Time!
Mike Tully and John Gallagan "Safety Perimeter"
Teens & Scouts Helping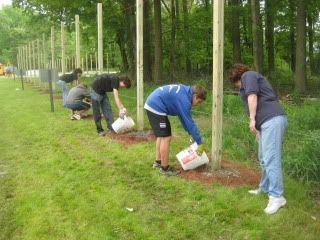 5:00PM Day 1 Complete: 500 ft. of fence posts installed, 4 bow racks installed, signs installed, 4 benches installed (Lunch-20 pounds of sausage and peppers, 40 hot dogs, 20 pounds of Venison Keilbasa/Kraut, 4 cases of water).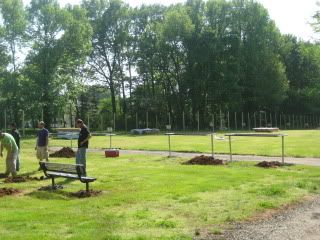 Next week: 600 feet of split rail fence and stockade fence installation and final touches.
Ray