Discussion Starter
·
#1
·
some of you guys keep asking to learn to clean a turtle so I took some pics .I only took a few due to the fact that I didnt want to destroy my camera .I cleaned two of the 5 that I have .It took less then 40 minutes each to do including skinning the head .I couldnt help but think of tom e. while doing this as I was going thru the inside of the first one .
step 1.
I like to hang the turtle and let the weight of its body strech his neck out ,once his neck is fully streched I cut his head off by using a sharp knife .let turtle bleed for about 5 min. while bleeding put head in bucket ,it can and will still bite for the next couple days ,as a kid we used to put them in the garden to get the local cats .
step 2.
Now that the turtle has no head he is basicly harmless ,he can still scratch you.lay turtle on its back and begin cutting around the shell till the skin is away from the shell ,take a sturdy knife and pop the joint that holds the bone to the shell ,it sometimes takes a little effort .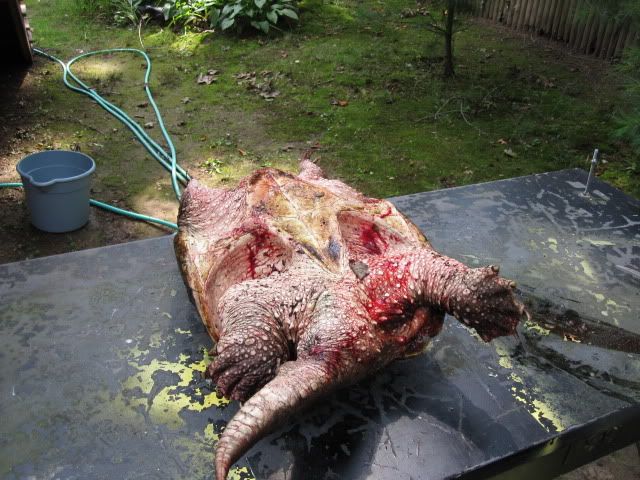 step 3.
pull legs out of shell and set aside for later skinning continue the same on the front end of turtle till all is out of shell
step 4.
you should now be left with 2 sets of meat that is gonna need skinning ,turtles have tough skin so keep a sharp knife.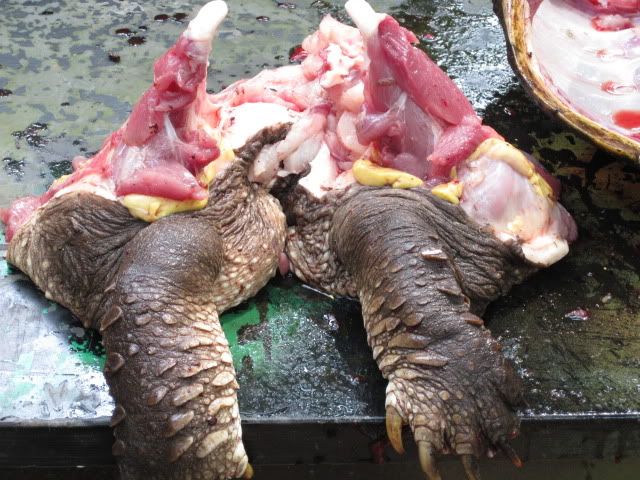 skin each leg as you would any other critter ,turtles are easy to skin w/ a sharp knife
you are now ready to cut the meat off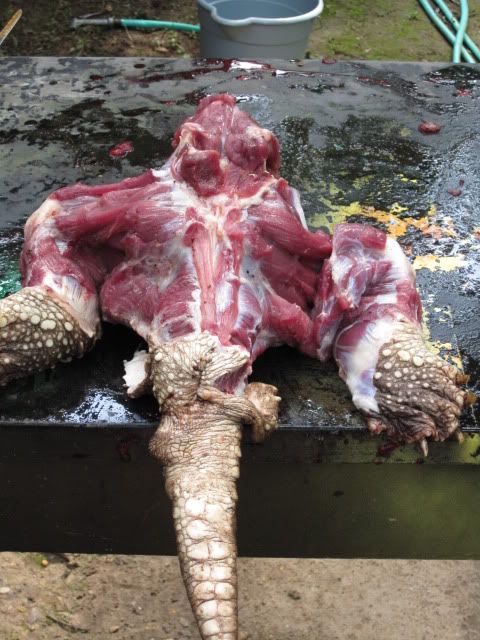 once you cut the meat off you are set to start cooking ,I am sitting here sampling some that I deep fried in cajun seasoning ,We dont waste much on our turtles the nails we give to some ole blue grass pickers that make necklaces out of them and sell ,these shells are going to my wifes school for the science class's ,and the skulls we all keep as a trophy