Discussion Starter
·
#1
·
Super X and I went out to hunt the Rios of Texas last week, April 1-5th. After getting all our gear and the rent-a-car. We started the long ride to the Canyon Ranch, 22 miles north of Rocksprings on Rt 55.
We took our time and enjoyed the views. Stopping for BBQ at three different places before we were greeted by Mike at the ranch gate. Once at the house we meet a few of his pro-staff members from Virgina.
They had already killed four birds that morning.
We woke the next morning to steady winds of 50 - 65 mph. That lasted for the next two days. Making hunting and hearing birds almost impossible.
Super X and I misunderstood Mikes directions to the first area and walked down the wrong road. Not hearing or seeing any birds we regrouped and headed back to the drop off point.
We walked right into a flock of birds. We stood still and formed a plan.
Back the way we came and in from behind seem the best bet. It worked! We got around them and in position. Set up our decoys and called to toms right in. The bird on Super Xs side came in faster then mine so he got the green light and dropped him under twenty yards.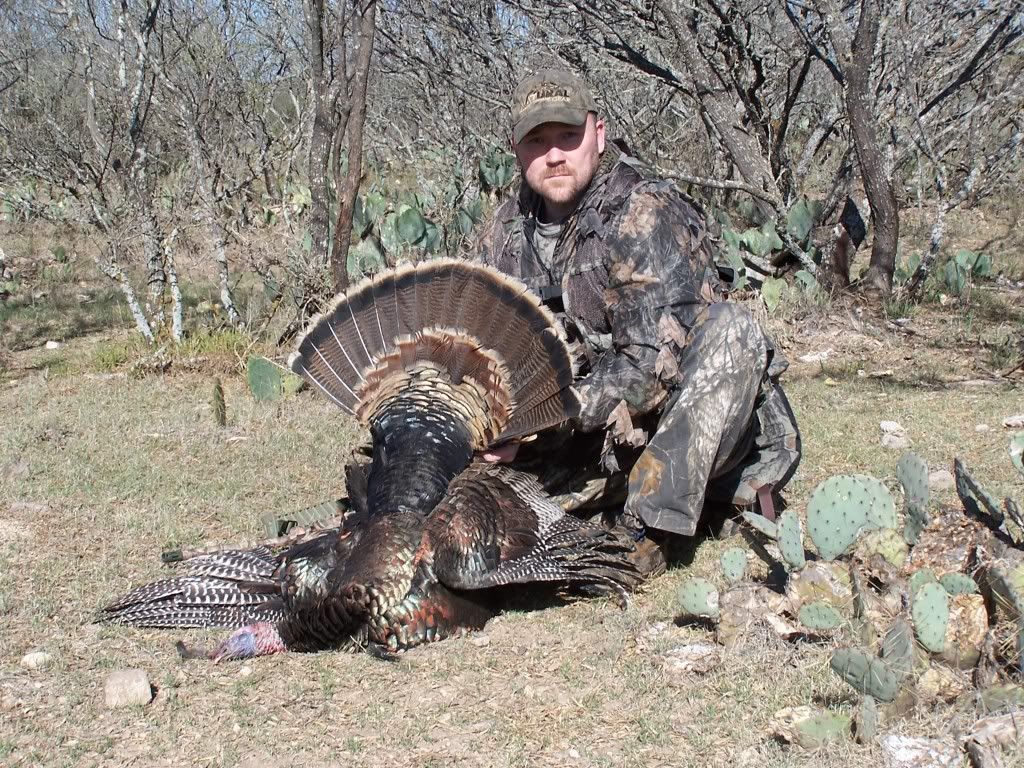 A nice two year old bird.
Back to the lodge and breakfast. We talked to Mike an a game plan was set for the afternoon hunt. We set up on a water hole Mike saw birds near each time he drove by.
Super X said he would film me and only shoot if bigger birds came in. The decoys were set and the waiting game began.
After three hours of lite calling, (every 20 minutes) and seeing a bunch of toms and hens off in the distance. A single tom gobbled real close.
Super X got the camera ready and filmed this tom walk right into the decoys and 12 yards from my gun. Perfect! #2 down for Team NJ.
Sorry to say I learned a hard leason. Once you watch a video back at camp. Be sure to fast forward to the end before you use the camera again.I taped over it the next day. My Bad.
The next morning, friday found us back at the area Super X got his first bird. This time we were in the right place but the turkeys didn't follow our plan.
We had to sit and watch them walk on the road we came in on 80 yards away. The older toms were all henned up and wanted nothing to do with us. After they left, Super X got up to "run and gun" some toms that we going nuts behind us.
I decided to sit and wait. An hour & a half after Super X left. Two toms came in quite and gobbled right on top of me.
They came within ten yards but to my right and behind some brush. Sitting still and letting them walk was the right choice. They did a big hook around me and came down the left side.
Two pulls on the cord to move my decoys fan was more then they could take. 3 1/2 inch #6 Hevi-Shot at thirdy yards took tom #2 and ended my hunt.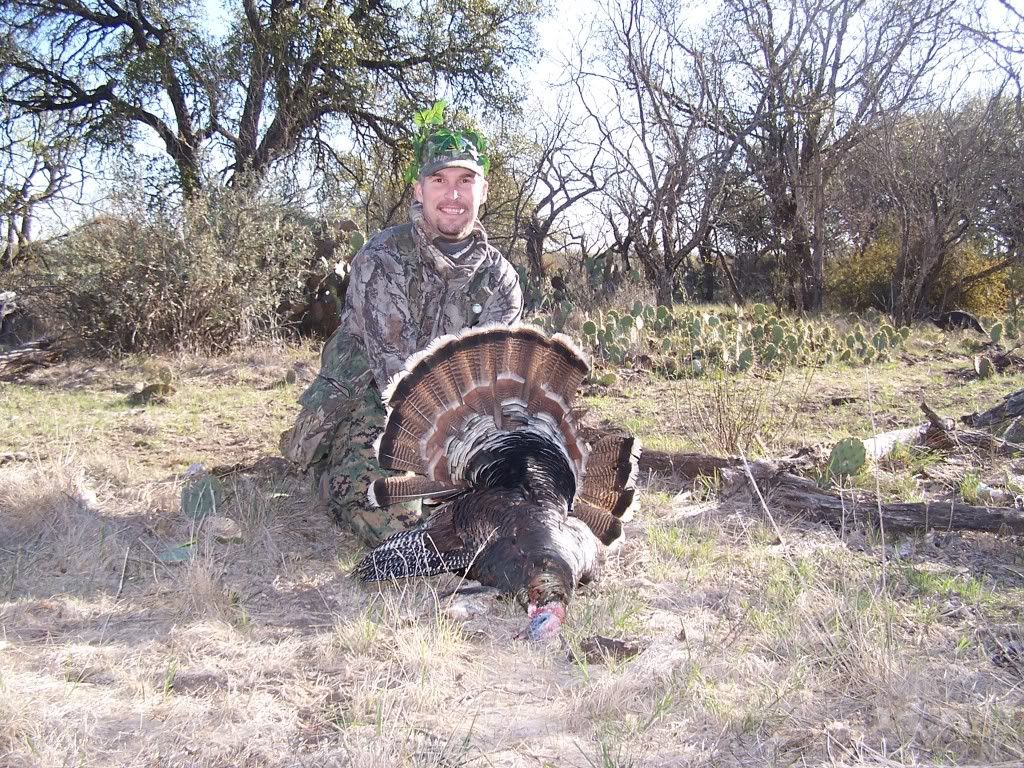 A real shame he lost a few tail feathers. It was a great looking fan.
That afternoon Super X and I got in early behind the waterhole we hunted the day before and back were we saw all the action.
On the way in three toms walked out 75 yards in front of us. Because of the high winds, they never heard us till we wanted them to. Only bad thing was we were caught almost in the wide open.
Just a few small bushes and trees to hide behind. Out went the decoys and Super X started calling.
I shock gobbled twice and here they came. I was flat on my stomach recording what I could. Super X dumped the first tom at twenty yards but never saw the second and larger bird behind him because of the bush.
After the shot the larger bird jumped all over his buddy before running off. From the time we left the truck, walked in, set up, shot the bird and were back at the truck. 1 hour.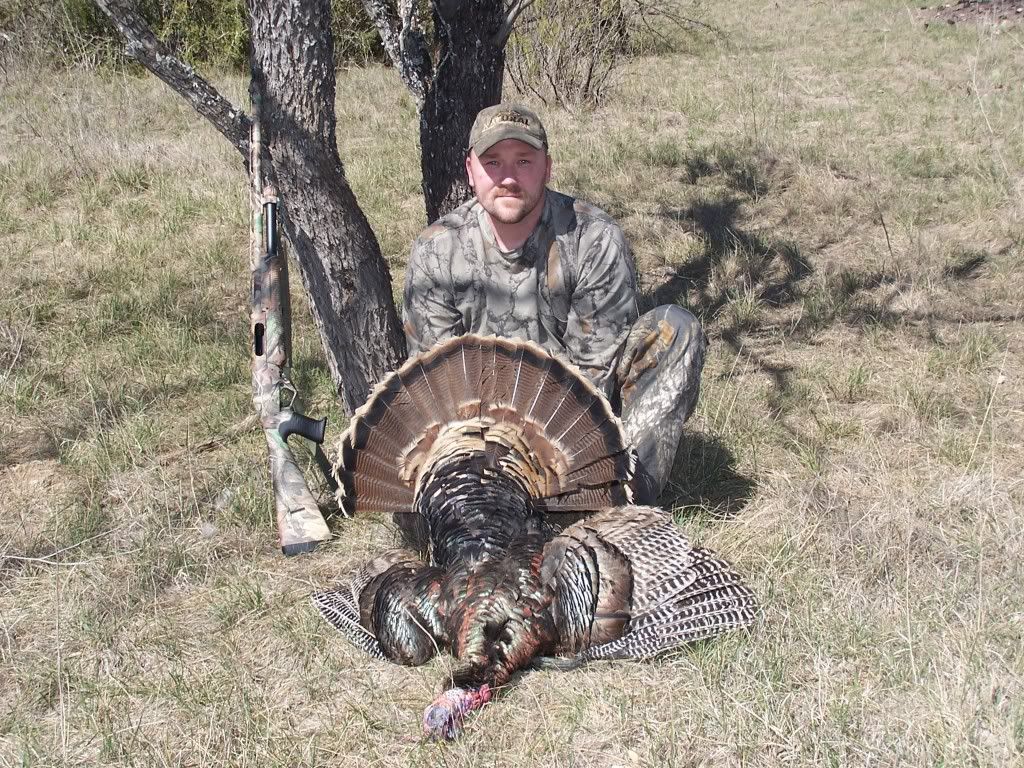 Super X with his second Rio.
Team NJ limited out in two days. All four birds were in the same range on weight and spur lenght. 18 to 20 lbs and 1 to 1 1/4 spurs. Beards were weak.
Mike told us the beards are thin because of the mytes. They eat the beards off the birds.
Two hunters from Ohio the were hunting at the other lodge had two toms in full strut walk in without beards.
Here are some other picture of Axis deer on the Canyon Ranch Super X stalked within bow range of. Very difficult to do.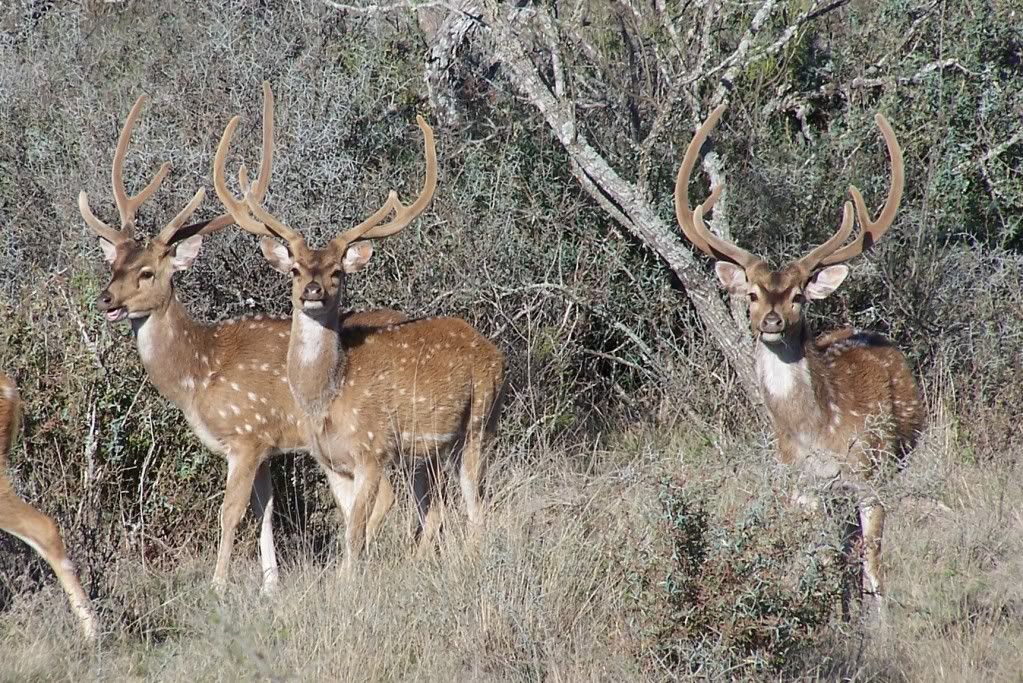 Good bow shot.
Super X looking out over the SOE Ranch while hunting pigs the last night. All low fence.
No high fence hunting here.Great time! Tons of laughs and more turkey then you could ask for.
One of three bass he caught behind the SOE Lodge.
Awesome trip shared with a good friend.