Discussion Starter
·
#1
·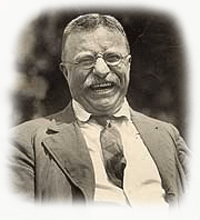 "In a civilized and cultivated country, wild animals only continue to exist at all when preserved by sportsman. The excellent people who protest against all hunting and consider sportsman as enemies of wildlife are ignorant of the fact that in reality the genuine sportsman is, by all odds, the most important factor in keeping the larger and more valuable wild creatures from total extermination."
"No man is above the law and no man is below it: nor do we ask any man's permission when we ask him to obey it."
"The very pathetic myth of 'beneficent nature' could not deceive even the least wise being if he once saw for himself the iron cruelty of life in the tropics."
"Bully!"