Discussion Starter
·
#1
·
mods, dont move this to the classifieds....please let me add and edit this before I move it to the classifieds please. THANKS...
$350.00 for a 2002 Hoyt Protec Target Bow: $350 with all accessories. Has a shoot thru cable system!
Includes: Tru-spot scope, 9" sight bar, NAP QT 3000 rest (modified), stabilizers with weights, sling, alphashox, 2 finger truball back tension release, clarifier peep with seperate apertures if I can find them, loop, etc.
The tru-spot scope housing and lens alone cost me over $160. They are awesome scopes by the way, they use higher magnification in the middle...No pin, no dot, nothing...just focus on the magnified spot and the arrow will go there! Heres a link to their website:
http://www.truespotscopes.com/35001.html
Next up we have a G&L Legacy 6 string electric guitar: Paid around $2,100...Sell for $1,500. Played lightly, never abused, never used the whammy bar...Still like brand new in custom transparent candy apple red. Includes a gig case, instrument cable, extra set of strings and allen wrenches.
Guitar in the middle (obviously) Sorry the two Takamines are not for sale.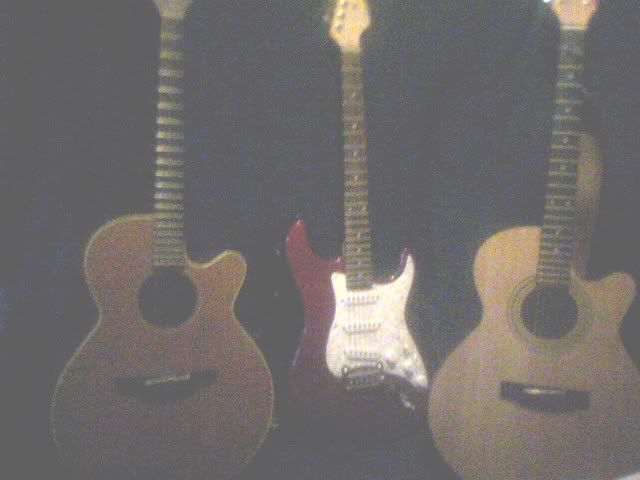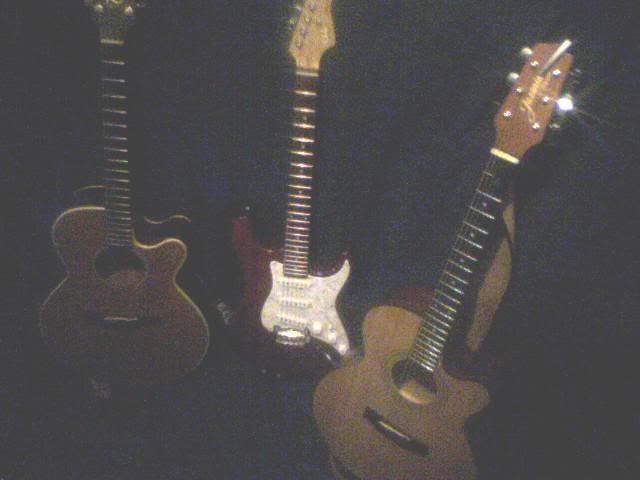 Lucky Strike Racing Jacket, Full Leather, chest size 42....with protective shoulder, elbow and back padding. Also features a hidden back zipper which you can attach your pants to. In the event of a crash that keeps your bare skin from getting road rash!
Comes with a matching AGV Lucky Strike Helmet.
Hard to find the white lucky strike jackets these days and they go for over $250. Helmet was $279...Sell both together for $300
If you were a big fan of GrandPrix Motorcycle racing in the late 80's through 90's, you will recognize this as Kevin Schwantz replica gear. Well the helmet is not exactly KS gear, but its close in style, fit and quality to the Arai he wore. I really like AGV helmets for the way they fit. I also have Kevin Schwantz Replica racing boots size 9 and a matching pair of gloves size medium that I did not picture. I am willing to sell those as well, just ask.
Yamaha VX 65D, dual channel, 80 Watt amplifier.
Yamaha makes excellent Pro Audio equipment and this is no exception... 2 seperate channels each with high and low 1/4" inputs and treble, mid and bass adjustment allow you to plug in two guitars, or a guitar and a piano, or a guitar and a microphone. It may have effects like Chorus and clean and dirty channels, but I'll have to check. I haven't used it...I play through a smaller Rocktron that wont scare the neighbors.. Also has wheels on the bottom to help move it around...it is not a little sissy amplifier...
This thing can get loud enough to make your neighbors call the police! [up] [rofl]
Originally cost over $550...asking $200
WILL NOT SHIP!!! MUST PICKUP.
More stuff on the way, such as an amplifier. Motorcycle pants, possibly an older PA system, ice hockey goalie equipment and a treestand or two. I'm still in the process of getting everything together and taking pix. So...it'll be a while.
Oh and this stuff is already for sale elsewhere...so first come first serve...