Discussion Starter
·
#1
·
We fished with Scales and Tales Charters. (They get a grade of A+ but more on that later) The crew had three Toms, two Erwins, Matt, Doug and Tim. We shaped up at 5 AM - some of use bright eyed and bushy taled - and some bleary eyed and just waking up.
Captain Erwin asked us right off - "do you want to catch alot of fish or do you want to go after big fish and win this thing." We all agreed to chase the bigger bass. So - after some masterful bunker herding by Captain Erwin and artful netting by Mate Erwin - we were off through the fog on the big blue sea.
As we steamed out through the fog Matt entered his fishing trance. I have no doubt that he woke up that morning to win this contest. He freed himself of any vestige of "Scrubhacktalism" and wraped his psyche around the the Junior Mojo....he discarded all unnecessary thoughts and prepared for the mug - or be mugged - climate of the "Striperthong."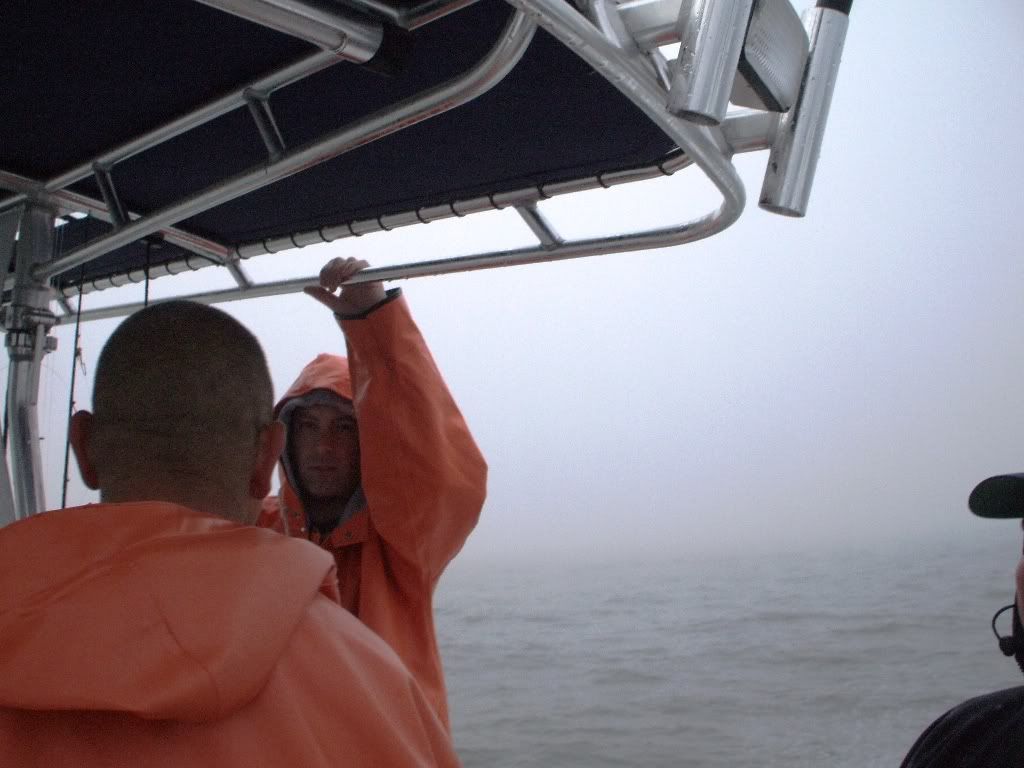 Things started slowly as we swam our live bunker in a sea that seemed empty and devoid of life.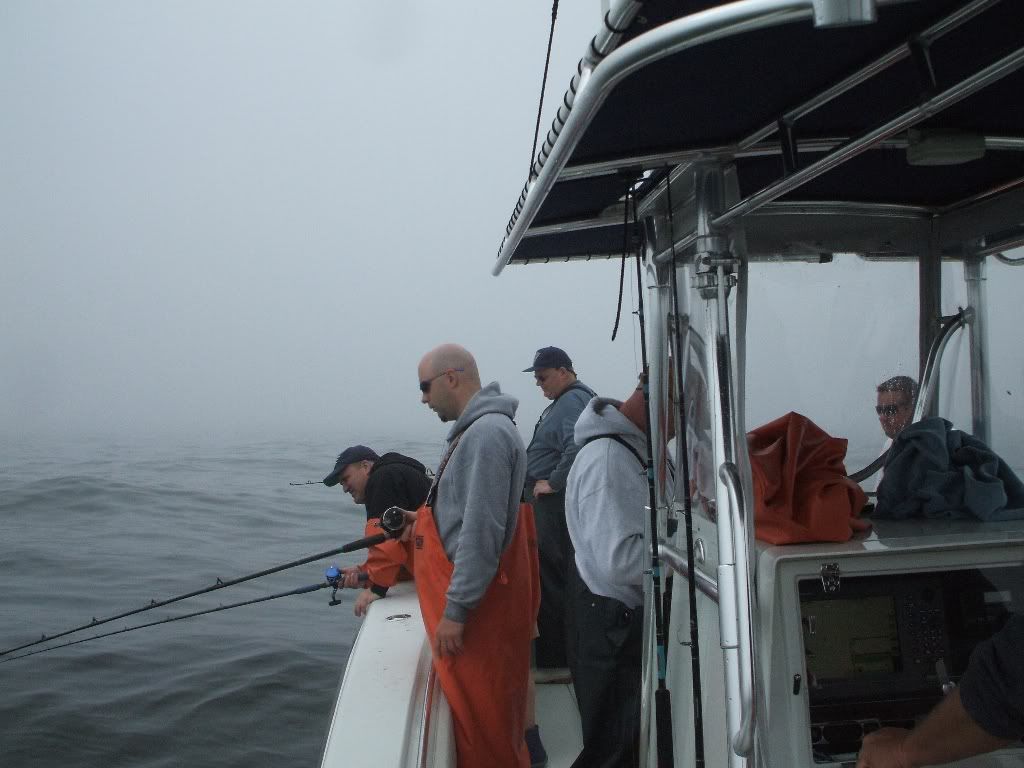 But Captain Erwin and his son, Mate Erwin, had scouted a spot for big fish and we were on it. It wasn't long before Tom "Lefteye" was on with a nice bass. He probably had more runoffs and hookups than anyone else did for the day.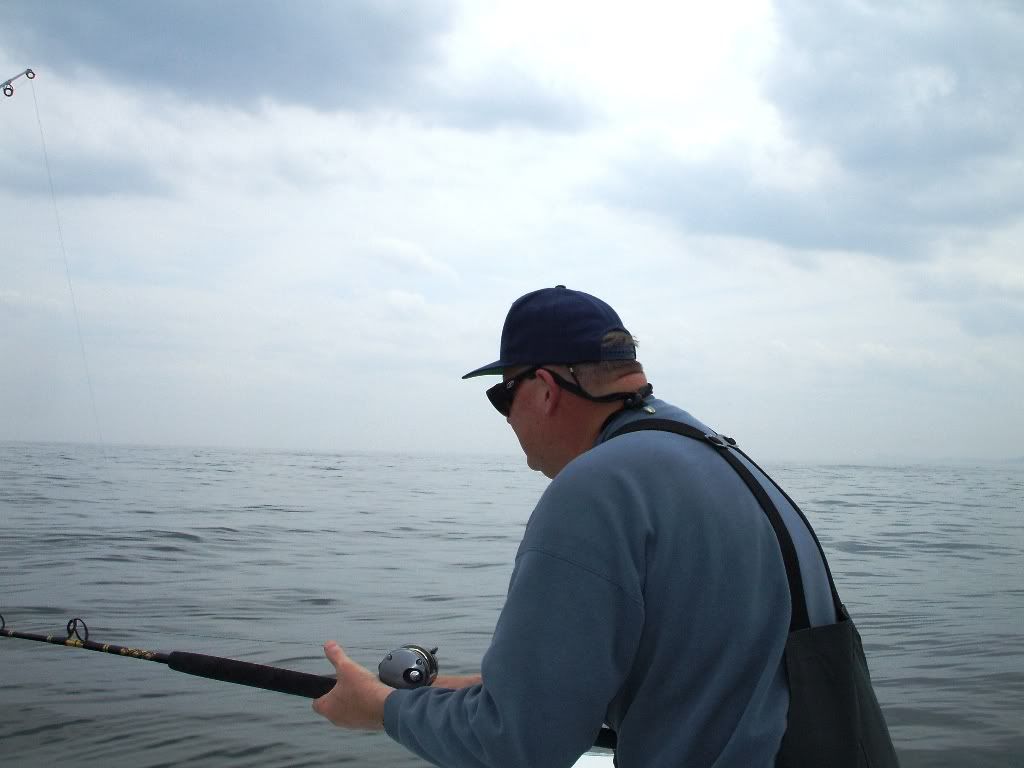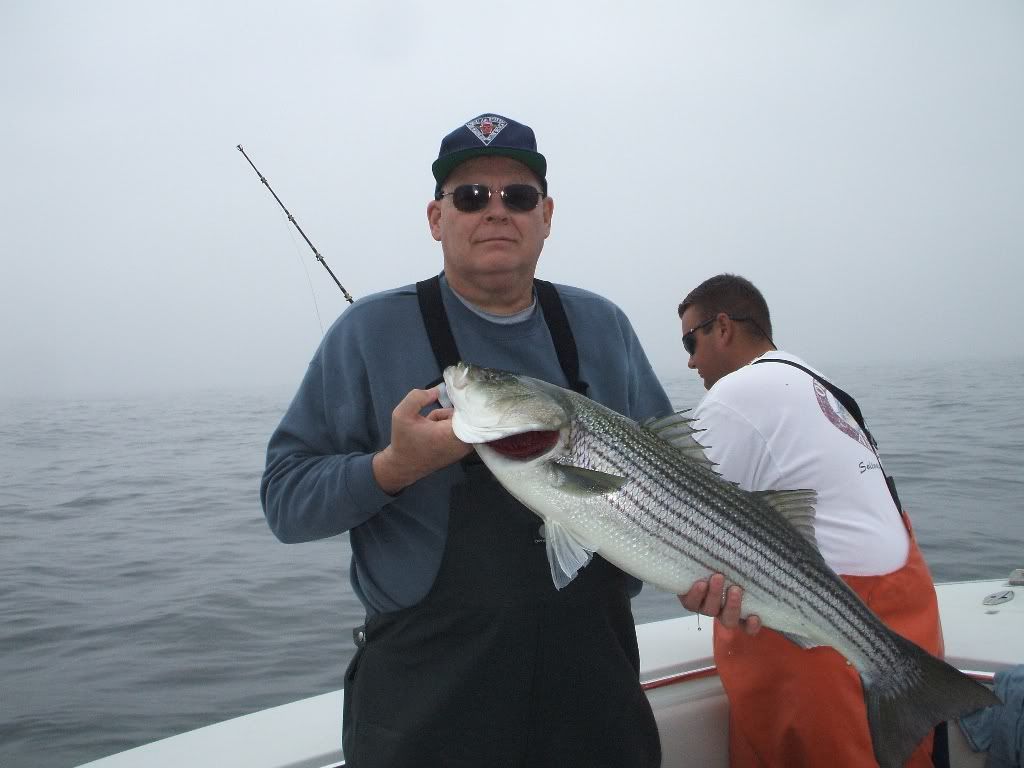 Then, after several of us had runoffs and big bass chasing our bunker on the surface, Matt hooked The Big Pappi.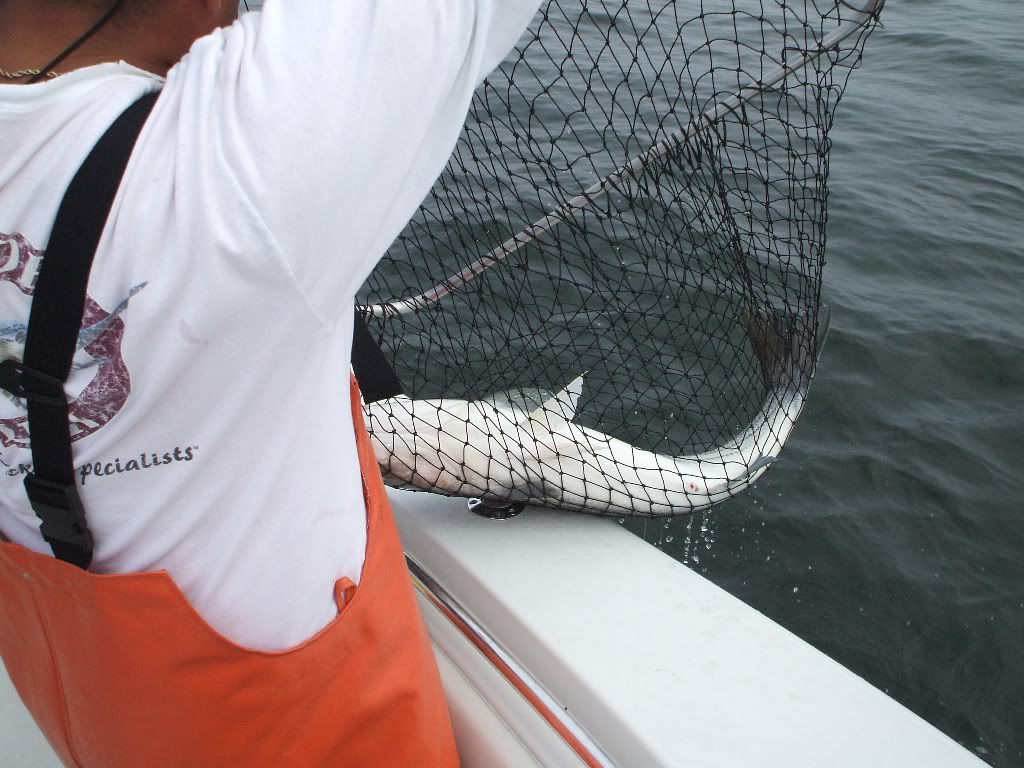 I missed getting a "grip and grin shot" of Matt's fish because I was busy fluffing a surface attack on my bunker. Sorry Matt. Sorry Erwins.
Fishing on Scales and Tales - with Erwin and Erwin - is great for a bunch of reason. First - they are both super guys and really good with people. Too, they know what they are doing and have that combination of patience and expertise that makes a trip with them both productive and delightful. Plus, their boat is big and fisherman friendly.
Here is a shot of Mate Erwin knitting Tim's third major backlash. The results speak for themselves.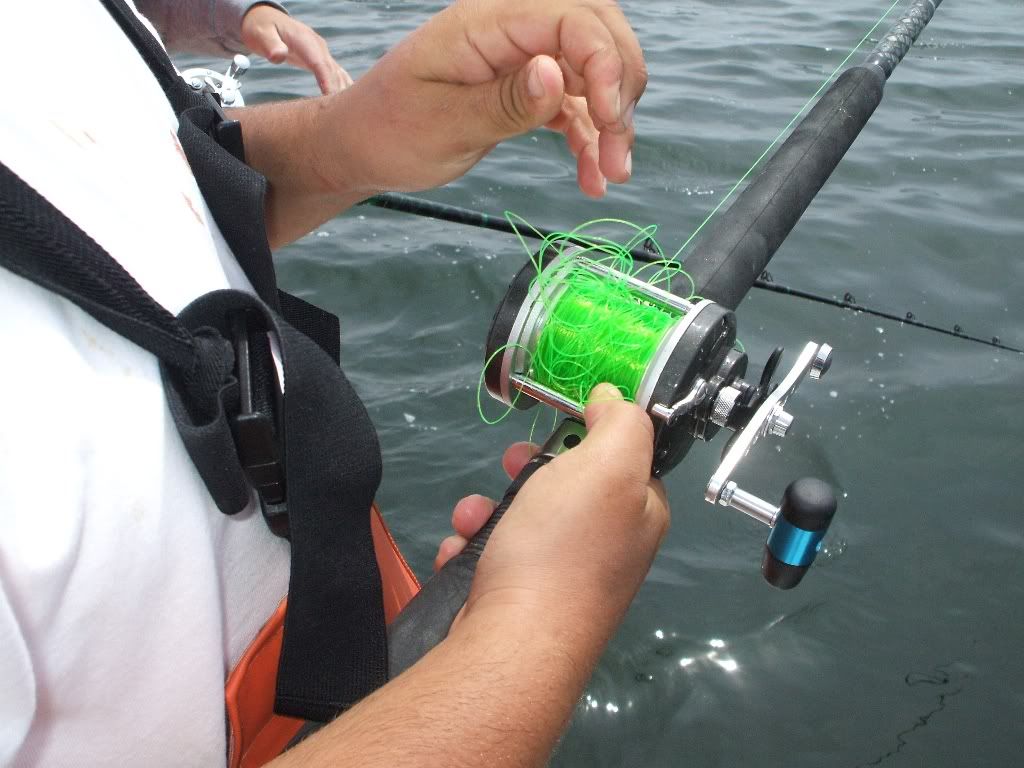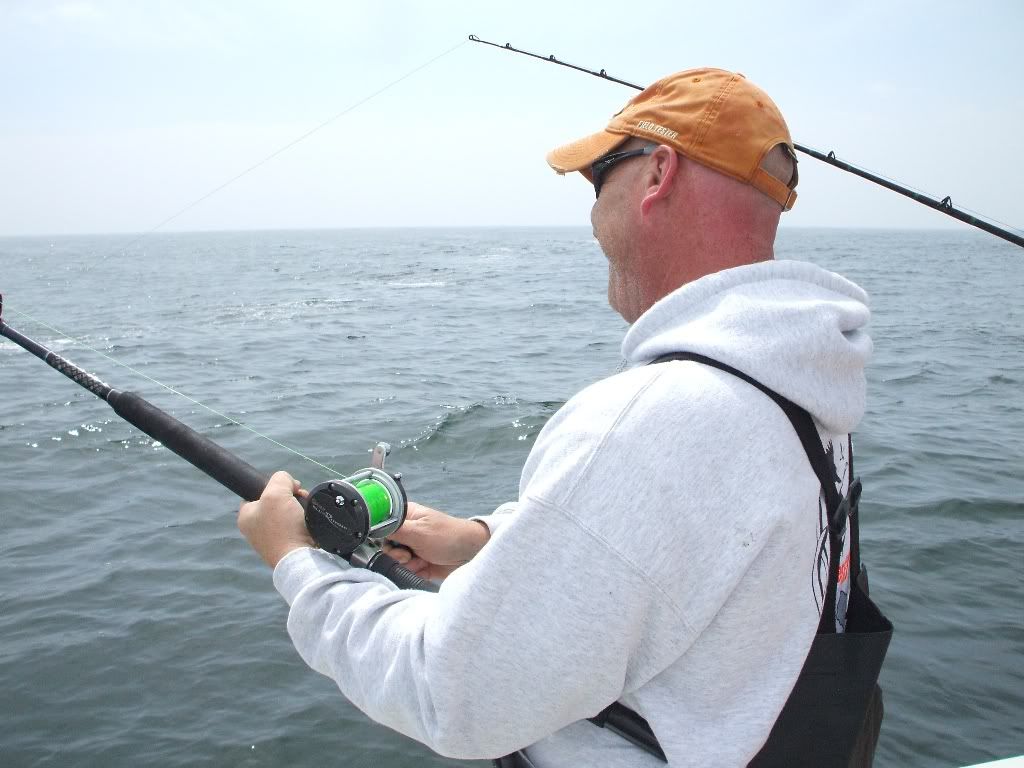 After a couple of pass throughs by the bass the yellow eyed demons arrived.....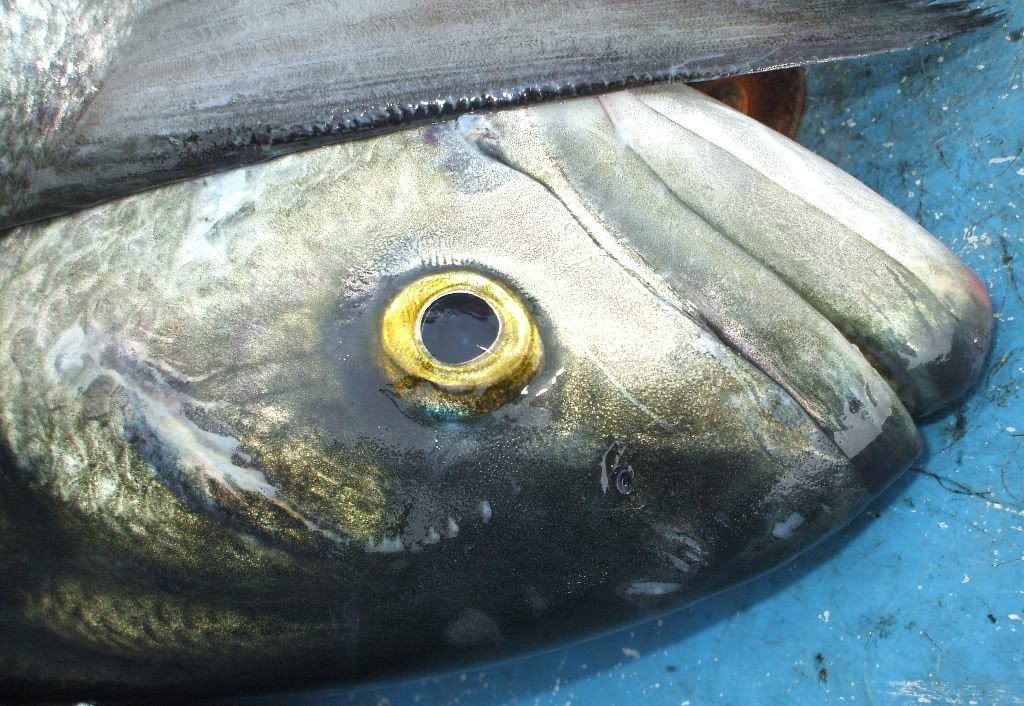 They dogged us for the rest of the day as Captain Erwin worked to get around them. These ferocious predators used their perfectly adapted bodies to go through two tanks of livies and endless cut bunker over the next four hours.
We caught dozens of them and at each new spot we held out hope on the first hookup that it might be a bass. It just never was.....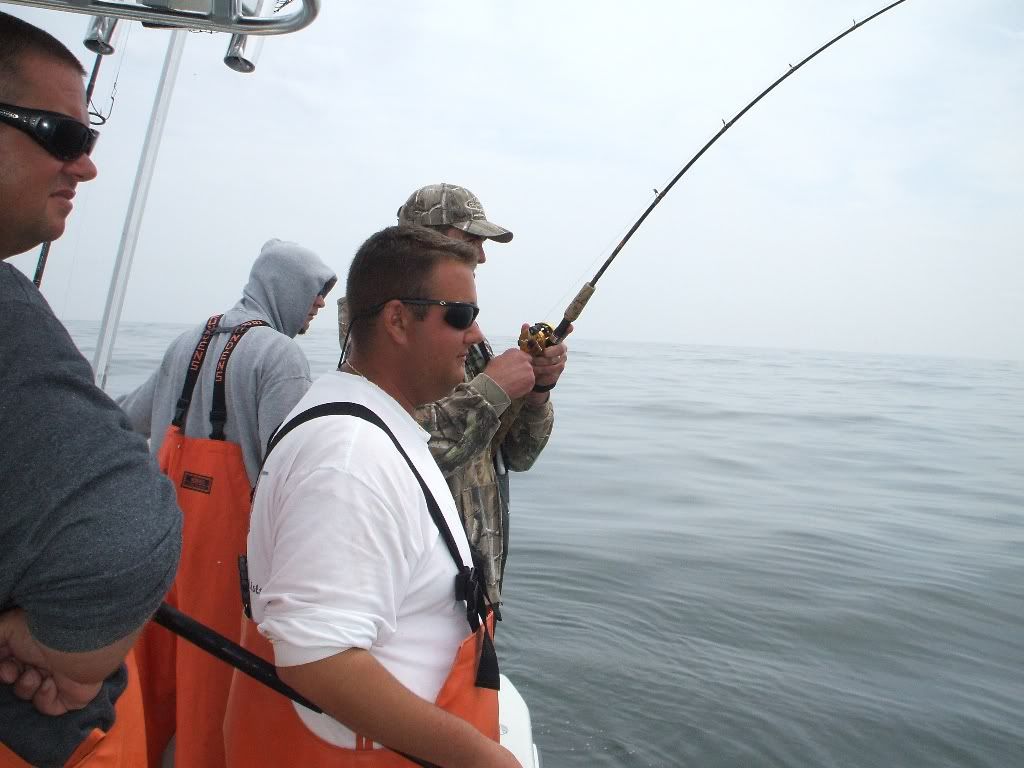 Doug hooked the last one as we rolled up to speed back to the dock.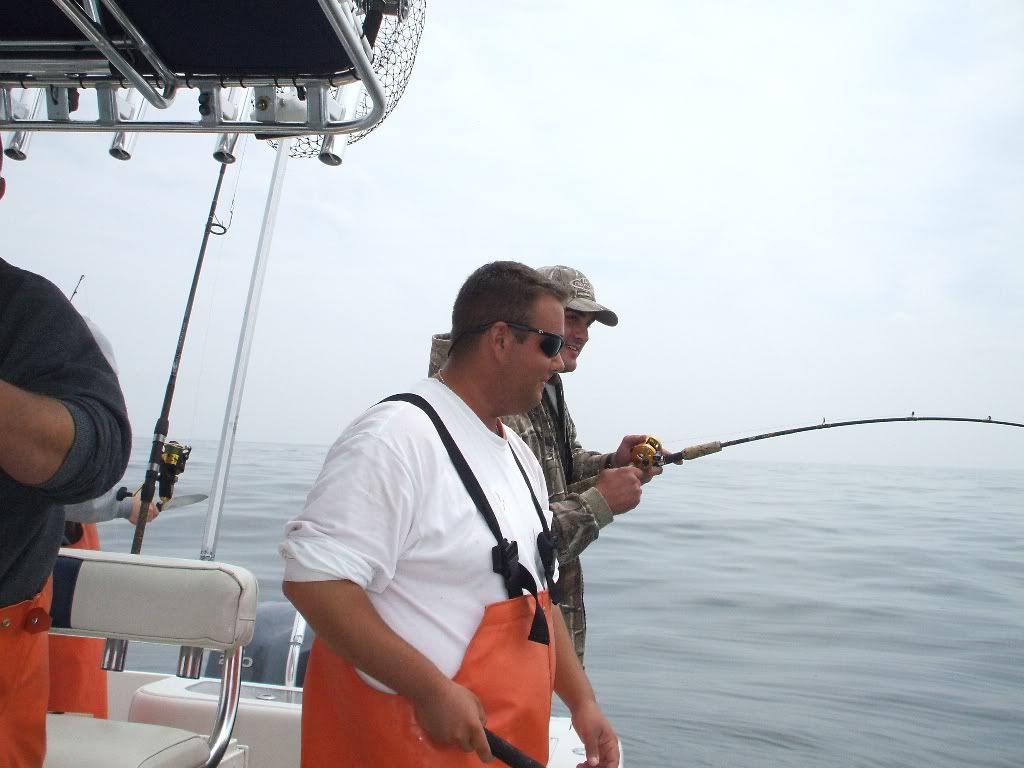 This is Mate Erwin with Tom and Matts keepers. He is a great guy and kept moral up on the boat all day.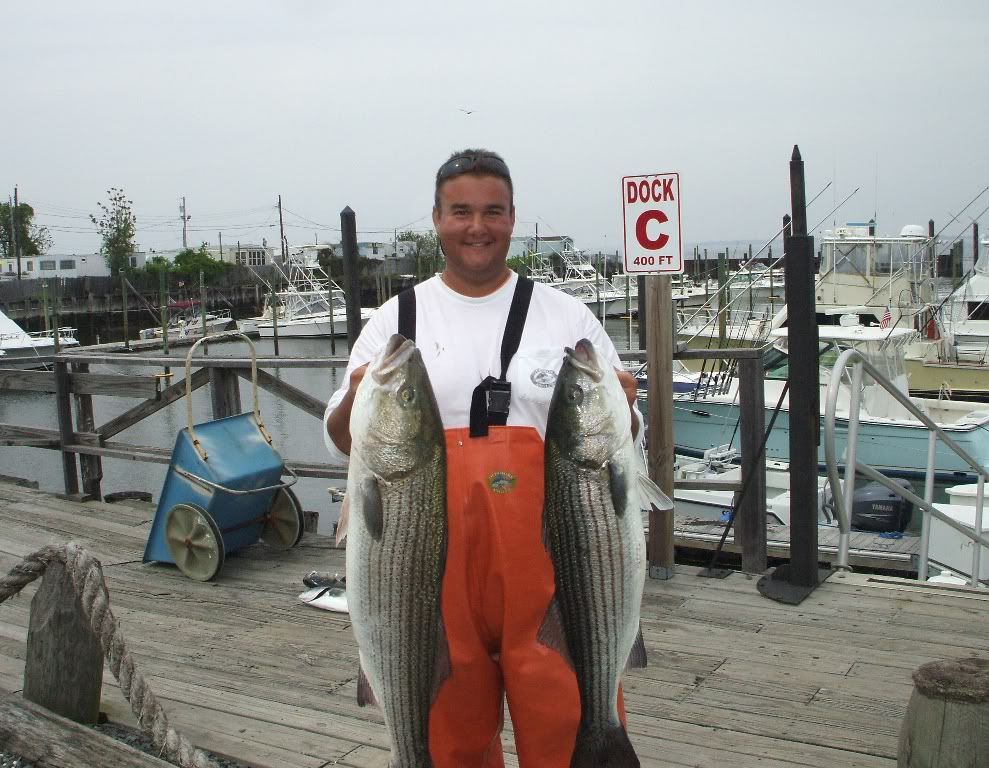 We even hauled home a bucket of blues.....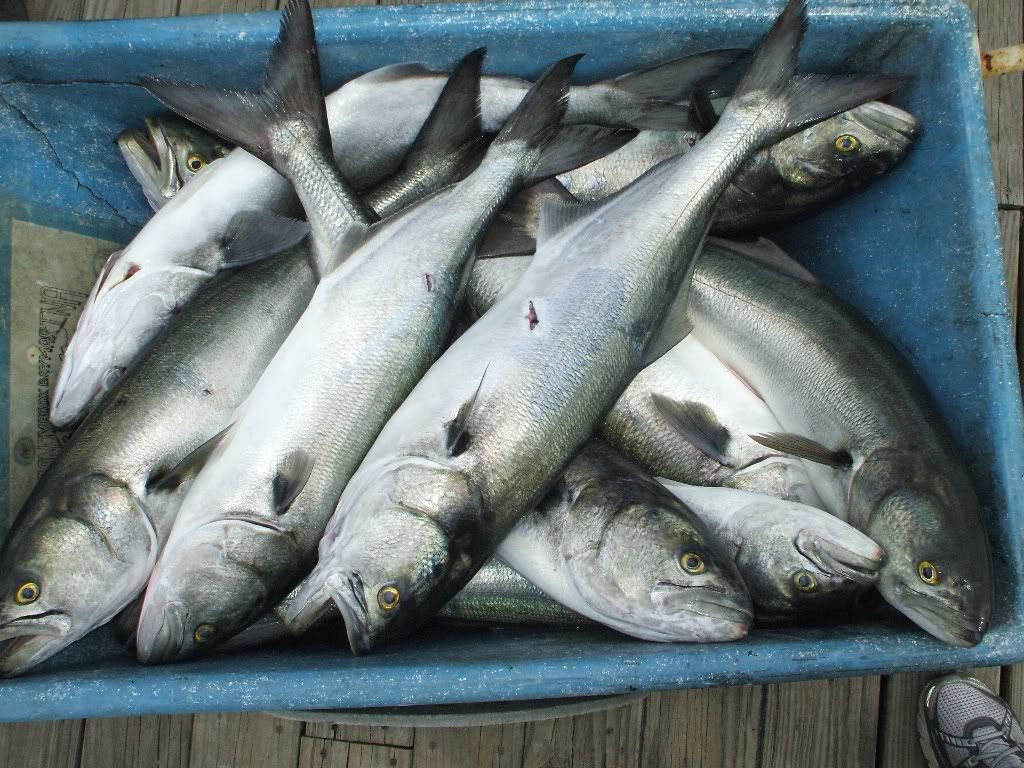 Then it was off to the contest weigh in. There were alot of nice fish. Lou was the master of ceremonies and he did not dissapoint...
Matt set the bar with his 21 lb. 11 oz. bass.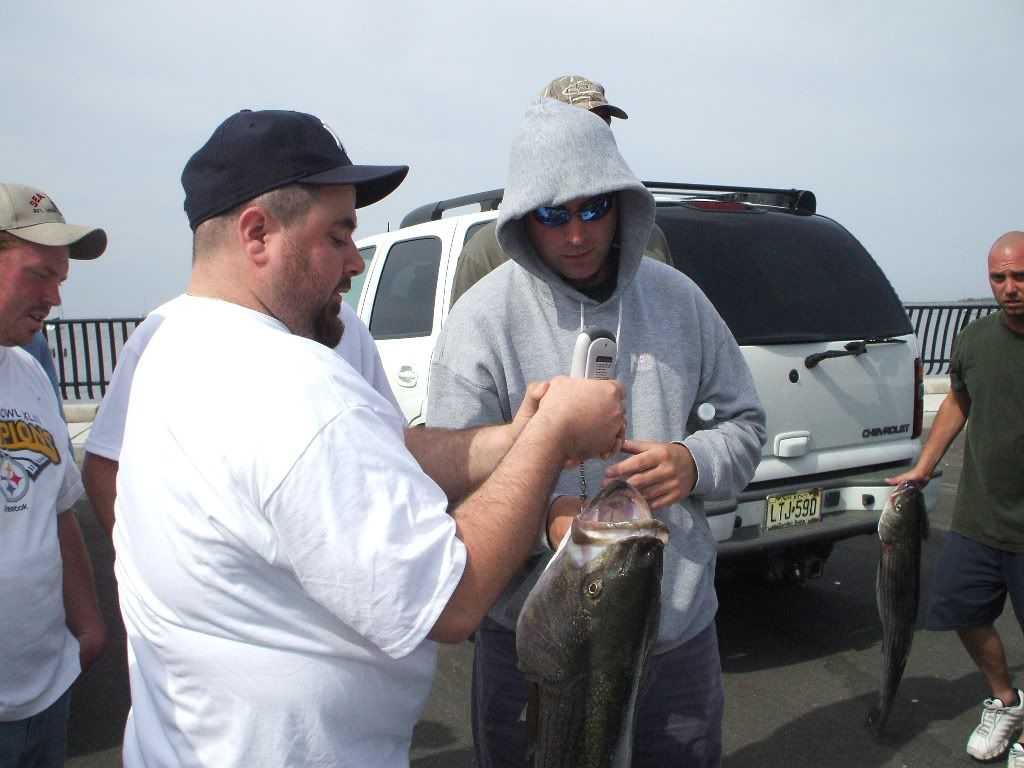 Lefteye had a good one too.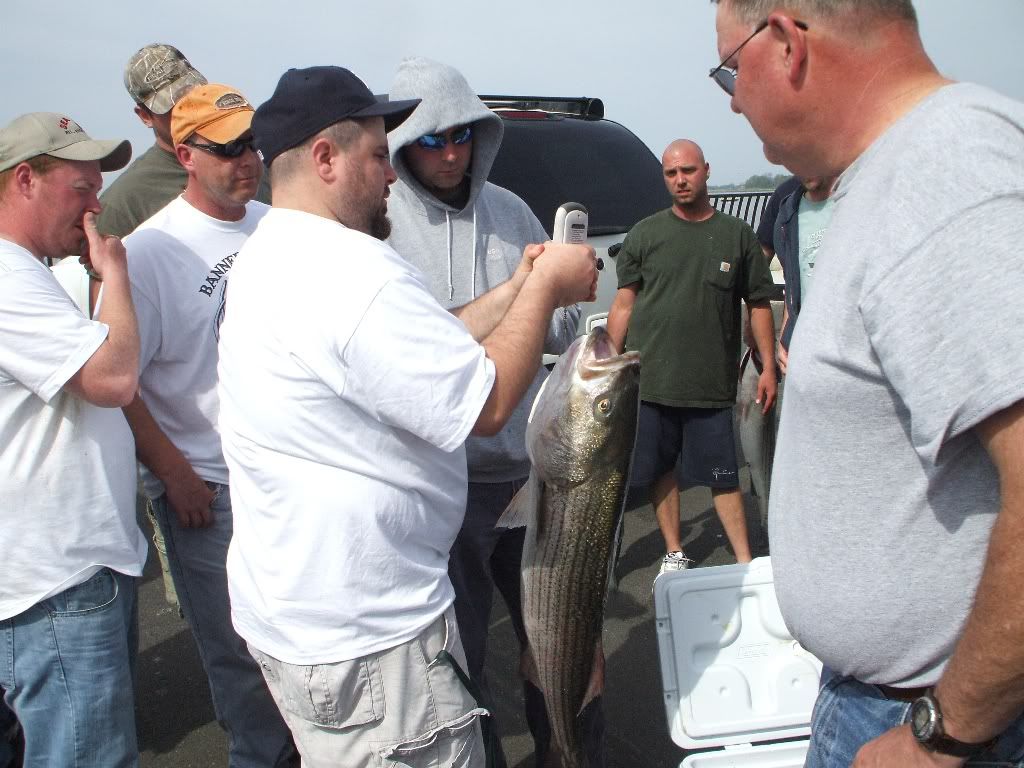 I owe and apology to this gentlemen because I forgot his name....his bass was 19 lb. 15 oz. He was the second winner. [up]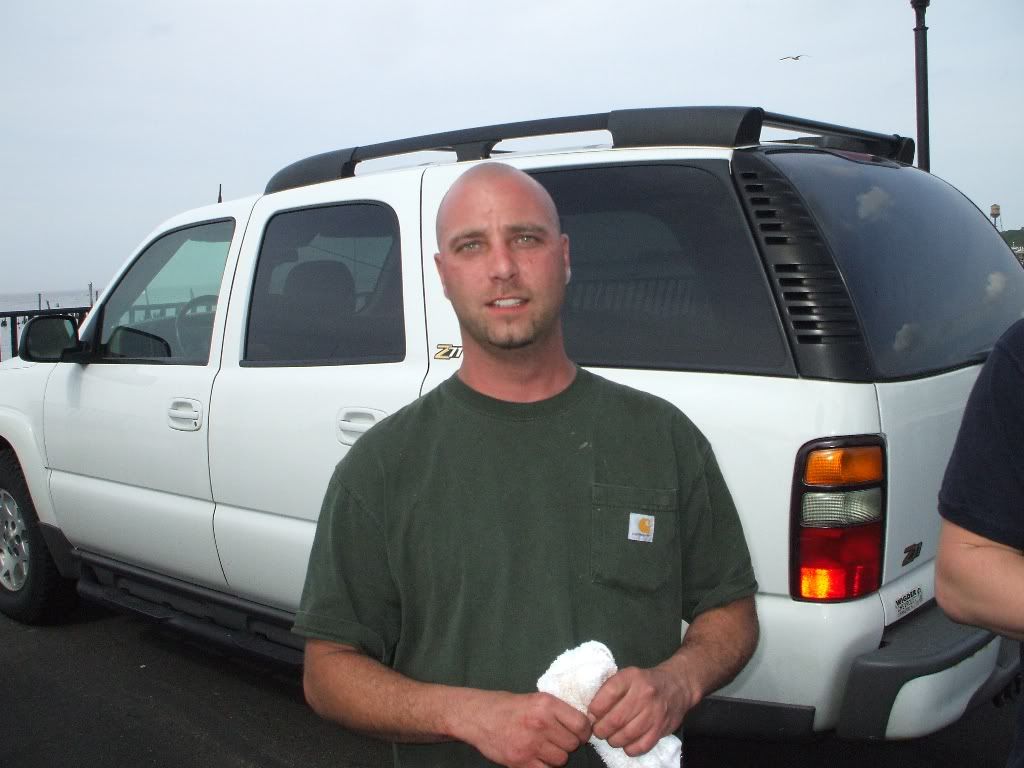 Another great bass. [up]
Red seems to have rubbed off on his fish....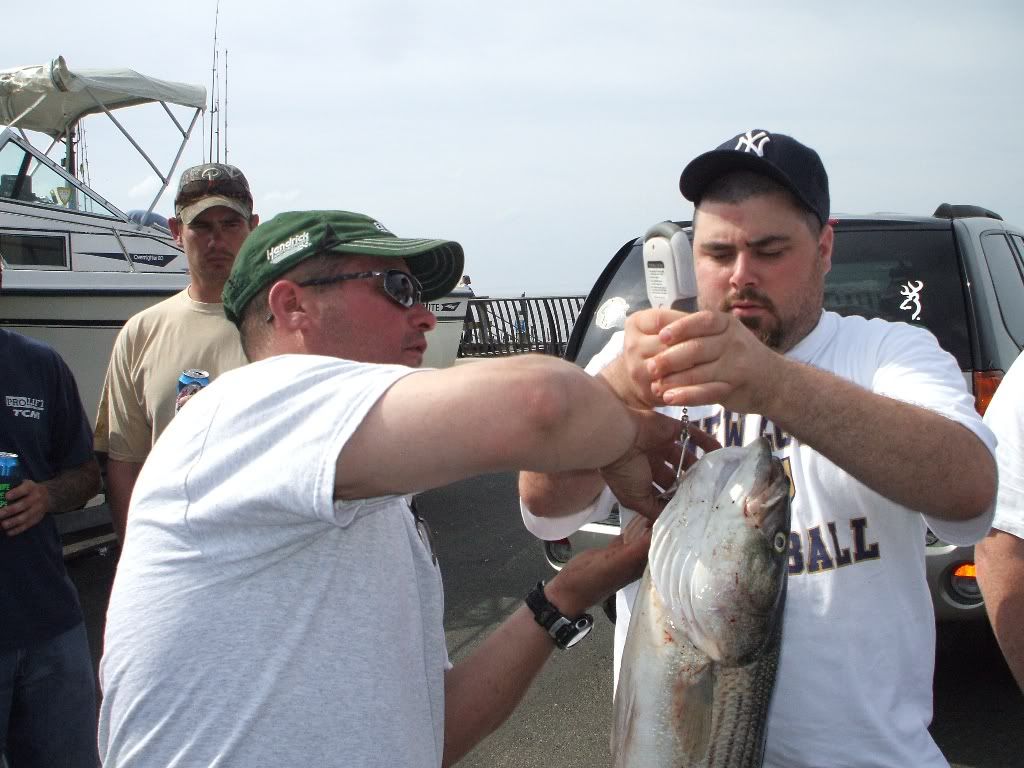 One by one the big bass hit the scales...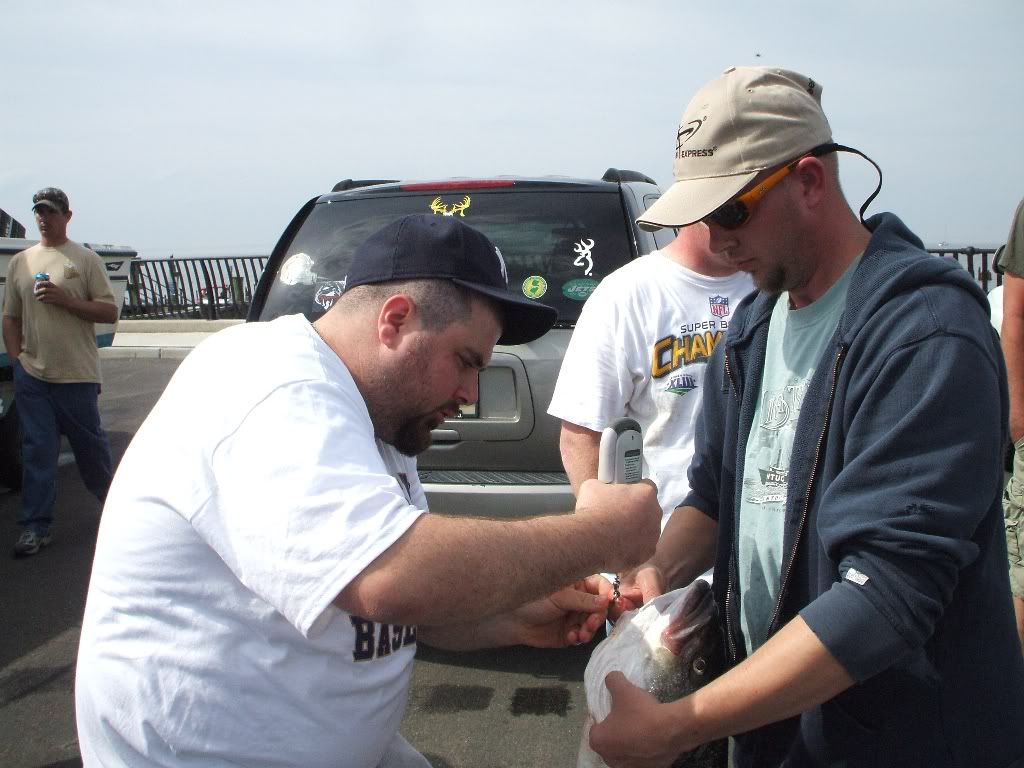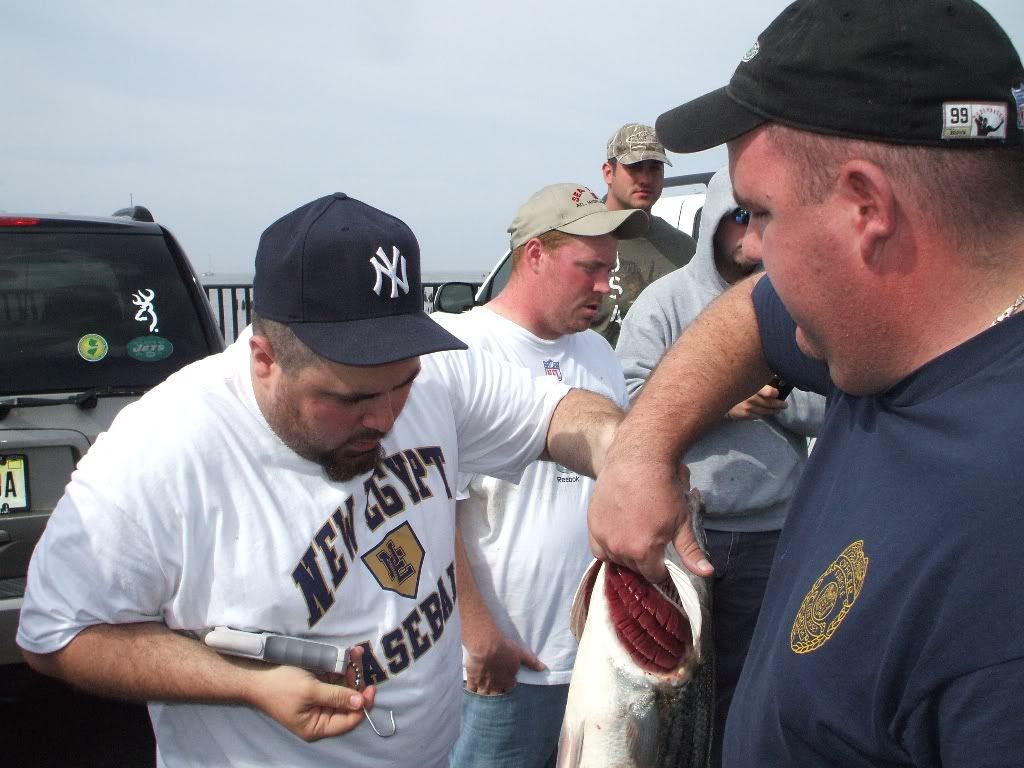 Finally, it bacame clear that Matt had the biggest fish. He was a gracious and humble winner and would not even allow himself a s**t eating grin. TDaly was not so inhibited. And Doug, as usual, was just catching up.
Nice going Matt!
MC Louie busted out the cash award. TDaly had the "Big O" when he saw all that cash and Sea Tiger Jeff was just in awe.....[rofl]
Here are the two winners with their magnificent fish. [up][up]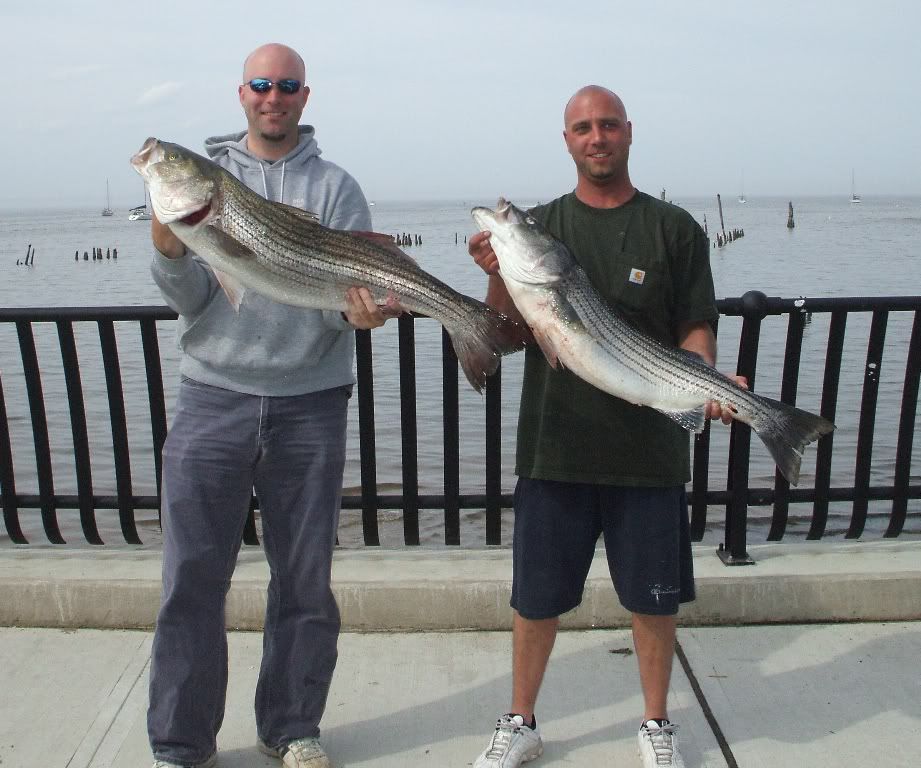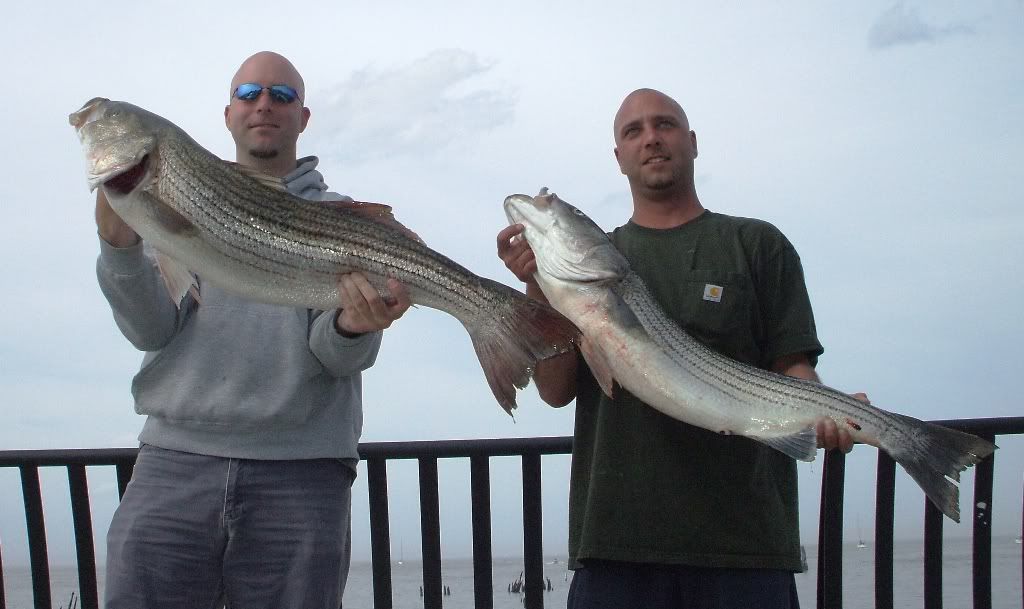 It was clear that the day belonged to the bald.... [rofl]
Then it was off to "Neal n' Bob's" for some beers and burgers. Tim Aka - Dbuck....Aka Timbuck2....Aka "DBuck Too" was sporting his custom shirt....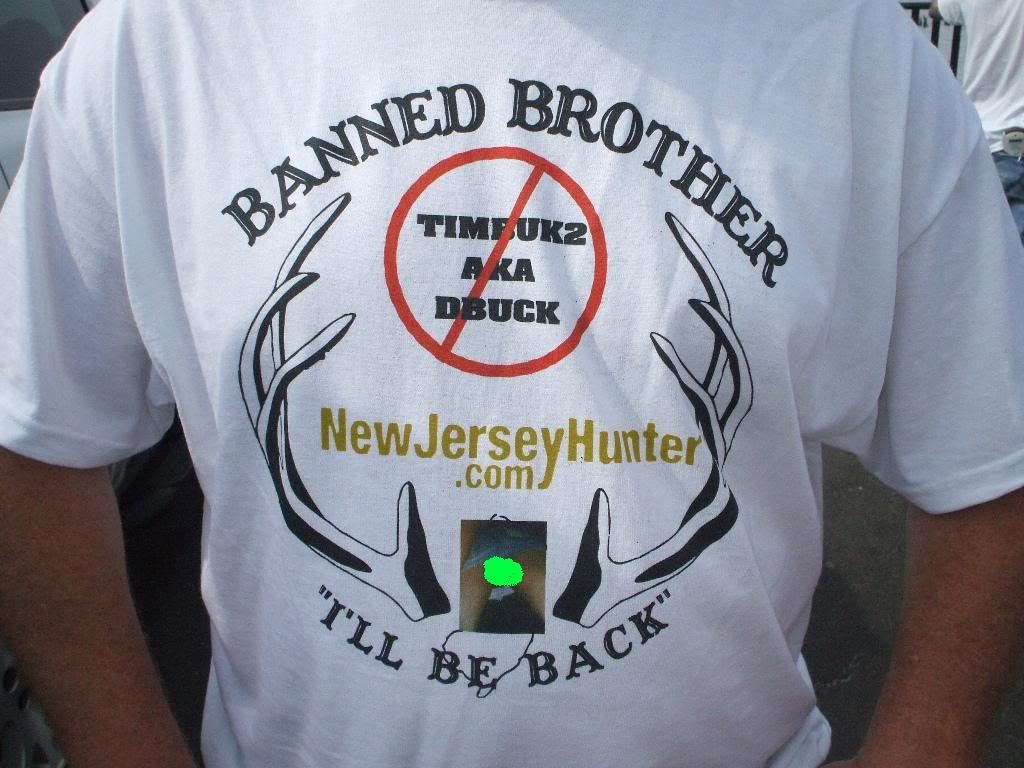 Matt and Doug - veteran fishing buddies of 1000 adventures - decompressed over some sudds.
Charlie and ChrisN are wide-eyed in disbelief over who knows what. ChrisN, with Charlie at the helm, bailed the bass yesterday and their boat limited out and just kept catching. [up]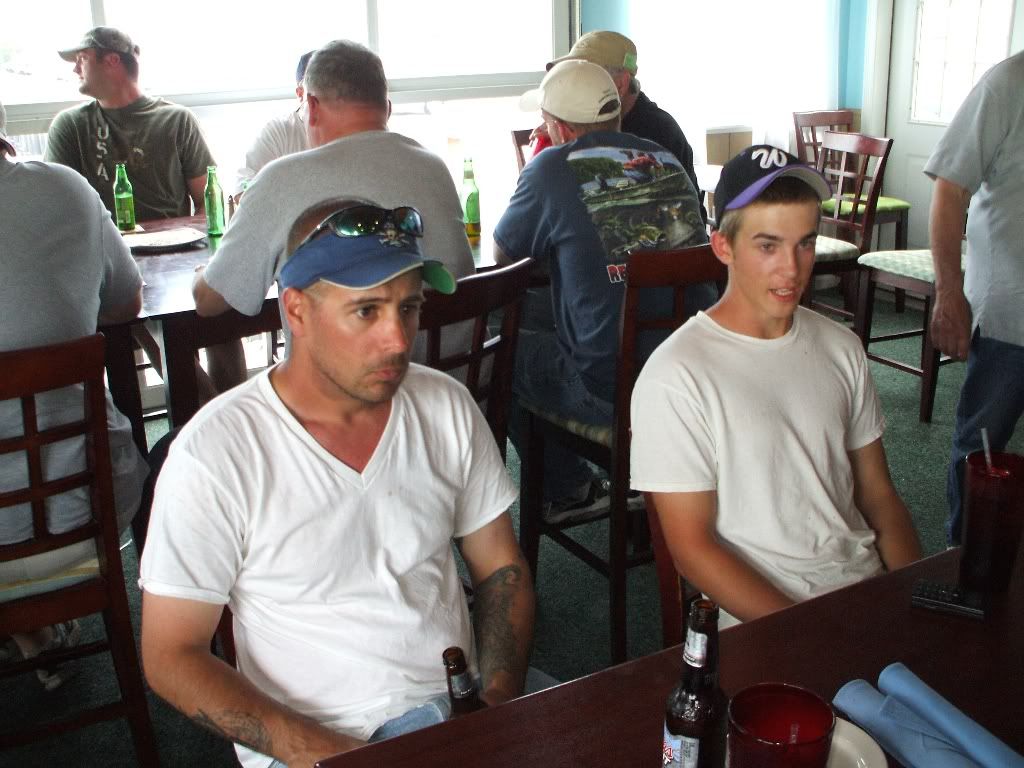 This was a great striperthon. I was blessed to be out their with the Captian, the Mate, and the charter crew on the Scales and Tales.
Good times....[up]