Discussion Starter
·
#1
·
Rolled out of bed at 3:00am, got ready and brought everything out to the truck (which I packed up the last night). Met both Tom (tomski) and Dave (outdrdave) on the parkway at 4:00am and headed to zone 12. Tom had several options on where he wanted to hunt and decided on a new piece of land (only about 90 acres), where he has seen a lot of turkey sign the past few weeks. We set up with Tyler's back to a big beech tree, Tom behind us about 20 yards to call and Dave about 10 yards to our right armed with a video camera. We put out two hen decoys at about 18 yards in front and to the left and a pretty boy at about 12 yards in front to our right. We were all set and ready by about 1/2 hour before sunrise.....quiet, just listening. The woods began to come alive around sunrise and we saw two hens come down from their roost about 50-60 yards in front to our left. Tom began making some quiet clucks and purrs behind us and one of the hens started coming in. Something caught her attention from hehind her and she headed back from where she came. Then we saw a Tom come from where she went in at about 70 yards away. Both Dave and Tom began to call, bring the quiet Tom in at full strut. Although both Dave and Tom were calling, he wouldn't call back. He came in to about 18-20 yards near our hen decoys and continued to circle, never making a sound. We couldn't get him to lift or raise his head. He finally presented a good angle and I told Tyler to shoot, which he did, making a good head shot and dropped him immediately. We were shocked to discover that it was a jake (he came in full strut with a very large full fan), small spurs, a double 4" beard weighing in at 16 lbs. Everyone was so happy and excited for Tyler as evidenced in the picture below. A huge thanks from both Tyler and myself to Tom and Dave [up][up].
Tyler w/ his prize (taken w/ my cell).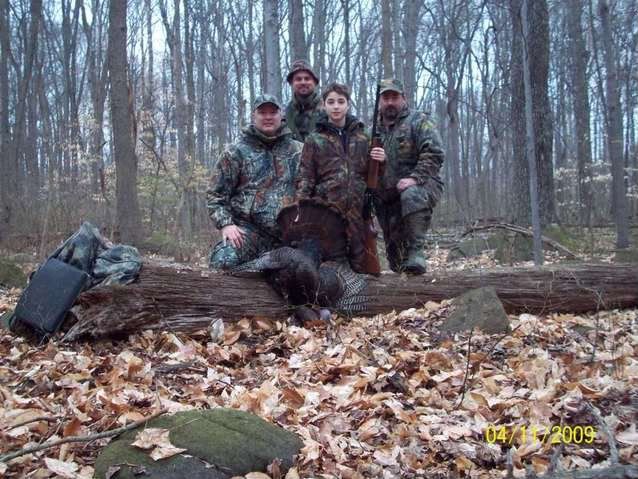 L to R: myself, Dave (outdrdave), Tyler and Tom (tomski).