Discussion Starter
·
#1
·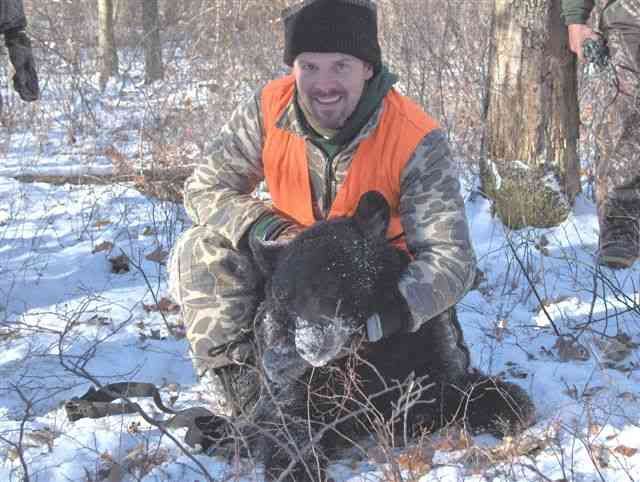 I was in my stand at 6:15am and hoping like hell that I would see the Monster Buck I have been after for 3 years. It was very cold but sunny with no wind.
At about 5 minutes to 9 I heard some heavy crashing thru the thick area ahead of me but to my right. I had a good feeling it was a big buck chasing a doe. To my surprise I saw a very dark object at roughly 100 yards coming towards me. I knew it was a bear at this point but wanted to make sure it was not a cub.
It came within 30 yards and stopped. I knew at this point it was at least a 250 pound bear so I took the shot. I hit it directly where I needed to hit it and was in shock to see it flip over and get back up and start to run. I shot again and hit it 3 inches further back and it fell on a log and I thought it was going to expire. To my amazment the bear got up again and I shot and missed. I then called in on the radio that I hit a bear and heard it crash in a thicket roughly 150 yards away. 20 minutes past and my firends arrived and we started tracking. We found lots of blood which made it easy to follow in the snow. Once we reaced the thicket I told my friend to go to the other side incase it came out. I followed the blood into the thicket and I suddenly saw a bears face 10 feet from me which startled me. He then got up and turned to run and I shot him in the shoulder. He came out of the thicket and then expired. It was a once in a lifetime experience for me and I will never forget that drag out of the woods. It makes dragging a deer out seem like childs play.