Discussion Starter
·
#1
·
Just got in from my "Hunt" at Iland adventure hunts in Bainbridge Pa. Before the crap flies, I was aware what I was in for so don't bother with the whole "it's not a hunt" thing thanks.
I had a great time with some great folks and will go again next year!.
I got there about 8 a.m just as they started to ferry everyone to the island. I met 6 other folks there, A good guy by the Name of "Doc" and his grandson Dakota andthier friend Craig. I also meet a fellow NJH'er on the hunt by the name of Adam though I forgot his handle.....sorry.
Also a fellow by the name of Bob and his buddy who's name I also forgot!!! I'm real bad with names so sorry in advance! Our guides for the day where George and Fred.
We set up in a line like a drive and headed out in search of 6 hogs and a ram.
Bob scored first on a neat looking corcican ram.
Then Dakota and his buddy Craig scored on a pair of hogs, Dakota making an expert head shot and drpping the big sow in her tracks!!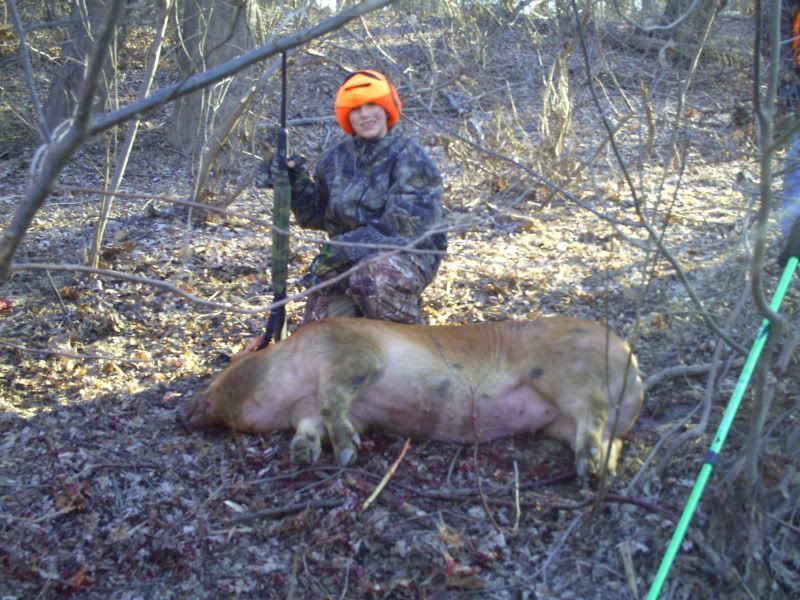 Then it was my turn, we found a pair of hogs sunning themselves on a ridge but they where laying down. one guy went around to get a shot at one of them in hopes the other would stand and give me a bow shot.
the feollw who's name i forgot put a head shot on the one hog and as planned the second bigger hog stood up but made a break for it and did'nt offer me a shot.
The hog made it's way past Fellow NJH'er Adam and stopped broadside some distance away and he made a beautiful shot with his fathers 1958 featherlite model 70 and dropped a big sow in her tracks!!! for his first big game harvest!!! SWEET!!!!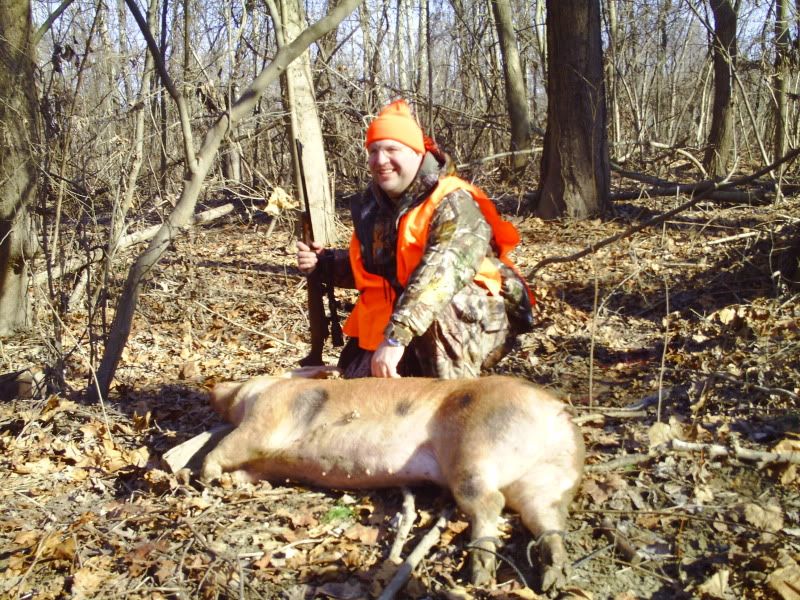 The blooding cerimony!!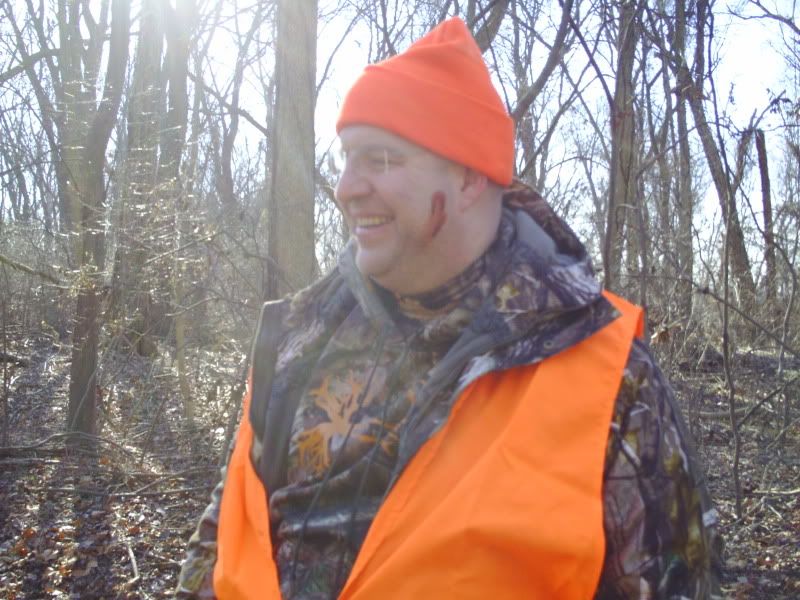 Later in the day we came accross the last pair of hogs and they where on the move!
Dakota's Grampa told him to go get it! and he laid it out with another well placed shot! Man can that kid SHOOT!!! at 12 years old he looks like he was at it for 20 years!!![up]
And bringing up the rear was yours truly!
I had a shot at a hog, about 20 yards in some thick stuff, I tried to sneak a shot through but it got deflected and I missed.
soon after I got another chance at this hog, it was quarterd away about 20 or so yards but very alert. Just as I let the arrow go she took a few steps forword and the shot went back into a ham angling in to the body, I quickly got a follow up shot sending a shaft through the boiler. She took 4 steps and piled up.
I'll post some more pix tomorrow, I'm just way to beat right now.
It was a great time with some top notch people and I'll go again in a heart beat!![up]