Discussion Starter
·
#1
·
Here are the winners of the free mounts. This is the Bow winner.
ryanmac14
Late summer I'm walking down this trail and I turn my head to the left, and theres a 13 pointer in velvet, 7 pointer, 2 pointer and other bucks. I quickly go home screaming my head off and decide that that monster buck was going to be my deer of a lifetime. I tracked the deer for the next following month (September) and notice that it hangs out in this certain area with a 7 pointer and 2 pointer! I then put up my Trail cam and hope for the best. I got amazing pictures like the following
... after getting these pictures i figure well heck with it, I'm putting up a stand. Also, out of all the pictures i have of this animal i notice that he appeared on my camera at a certain time as well. So, on October Th, opening day, and me and my girlfriends 2 year anniversary I head over to my stand. My girlfriend head to her stand ( hoping she could harvest the 7 pointer) When the time came that the deer usually stopped by at, he appeared! Slowly making his way with the 7 pointer, and 2 pointer they pass my stand at 15-20 yards. Shaking and almost passing out from my intense heart rate i pull back my bow. I aim and release striking the 13 pointer! But, after I shot it all 3 deer jumped and ran so I couldn't tell if i hit him or if I missed somehow since I was shaking so bad. After watching the deer (beginning to get upset that I missed this opportunity of a lifetime) for 2 minutes he stumbles and then crashes to the floor! 25 yards from my stand the monster buck, deer of my life time, lays there. I quickly jumped around in excitement and called a few relatives that i was going to need a lot of help! But then my pocket vibrated, my girlfriend texted me saying that she just shot a 7 point buck! The same one that was with the 13 point buck! He ran 200-300 yards to her stand after I released my arrow. This is a story that I will remember for the rest of my life. My ND year hunting days after my birthday, opening day, ND year anniversary, what else could you ask for. Big jump from last year when I took my first buck that was a 4 pointer. Hope for more memorable years to come, and that I can someday take another beautiful beast like this one.
And the winner of the Gun Mount is.
fredmon38
My First Muzzle Loader Buck
I didn't need a gun to take the test so I got that out of the way earlier in the year. After that was done I needed a gun. What better place to get one than on NJH, from a member with lots of experience, who could give me a load of advise. I picked up a beauty from Drop Tine, T/C Omega SS barrel thumb hole stock with everything he had for the gun, SWEET.
OK, on to the hunt. December ST zone 8, I'm in the stand and ready by 6:00. I had 1 deer cross close to the stand around 6:30. By 8 a spike and a small doe are working their way toward me, before they get to me I see 10 deer in another field. Now the norm is to come in the field I'm hunting and browse. No surprise to me, that's not what happened. The spike and the doe join the 10 deer, 2 of which are bucks, a 4 and a nice 6. I watch them disappear into the woods about 1/2 hour later.
By 10:30 I get down and switch to a different stand that has been better in the early afternoon. Well, nada, nothing for the next 4 hours. The stand I was in earlier is a good early morning late afternoon stand so once more I get down and work my way back to that stand. From this location I can see 4 fields separated by hedge rows. Before I climb up I see 4 deer in the south field. I've got good wind and take my time getting up. By the time I'm up and strapped in 2 of the deer bed down, good, I didn't spook them.
By 3 I've got a lone BB come in and hit the corn pile 10 yds away. He sticks around for about 20 minutes and moseys off. 3:45, I'm watching 2 little guys making their way to me, from my left. It's a BB and a small doe. Pretty neat, the button wanted all the corn for himself and kept chasing the doe away. A mature doe and 2 more little one's make their way by me. Something was right today the weather, the air, I don't know but usually by this time I get winded and they take off. Well that's not happening. A spike comes in real slow. Now both the doe and the spike don't know what to make out of that big bump in the tree, ME. They got eyes on me every second. I don't move a muscle. I'm starting to shake a little from the cold and the deer being so close. They are from 10 to 30 yards away. I now here crunching to my right. Another mature doe. I can't help but think I'll never survive this. Hearts pounding, legs are shaking and my butt is numb. I've been watching these guys for 30 minutes. One of the does must be in heat, she keeps crawling across the front of the spike. Really cool to see stuff I've never seen before.
To my right again I hear leaves crunching AND hoof steps. A nice 8 passes right in front of me 5 yards away. All I can think of is, cock the hammer on the gun, and I do it when he right in front of me. Crap! He heard the gun. He stops, looks around, figures all is good and hits the corn. By this time one of the does lost interest and is about 40 or 50 yards away. The other one is still working on the spike. The spike, who's about 25 yards away, still doesn't like the bump in the tree and has eyes on me constantly. Every time he looks away I move the gun a little bit. It takes almost 10 minutes to shoulder the gun. I'm almost there. The 8 is only 10 yards away and has his back to me. I tilt my head to aim and then hear the spike snort. All hell broke loose. Deer are running all over. I site up on the 8 and squeeze the trigger. BANG. Big cloud of smoke, can't see anything. The smoke clears and the spike is 75 yds out and a small doe is 40 yards out. The spike walks off and I get down. It's 10 minutes after I shot and 20 minutes until it's dark.
There are 2 major runs through the hedge rows I need to check out. I walk slowly and quietly down the hedge to the first run, nothing. I get over to the ND and spot good blood. Holy crap, I hit him. The blood takes me on to someone else's property. I leave my gun, go to the back yard and the land owner meets me outside with his daughter. I explain what happened, who gave me permission to hunt there and ask for permission to retrieve the deer. Real nice guy, his wife is against hunting and calls his property a SAFE zone. He gives me permission and also asks me to be as discrete as possible. No problem I tell him. I get about 200 yards into the track and jump the deer. As I'm backing out I run into Joe, the land owner, tell him I'll be back tomorrow and he tells me to come back after his wife goes to work. Once again no problem and I thank him for his understanding.
Next day I'm in the field by 8:15, go back to where I found last blood and continue searching. Timbuck2 gave me his number the day before and said if I still needed help by 10 to give him a call. Well I was on the phone by 9:30. I grid searched the area and came up with nothing. No more blood, no hair, no deer. I was getting real nervous at this point and knew I needed help, I needed another set of eyes because I was seeing the same thing over and over. Tim was on site by 10:15. I can't thank him enough. When he spotted the deer I couldn't have been more than 25 or 30 yards away from the deer. I guess I was dressing the deer out by 11:30 and on my way home after a few snapshots. This is my most memorable hunt to date. From watching how the deer behave to harvesting a nice 8 point buck, my best to date.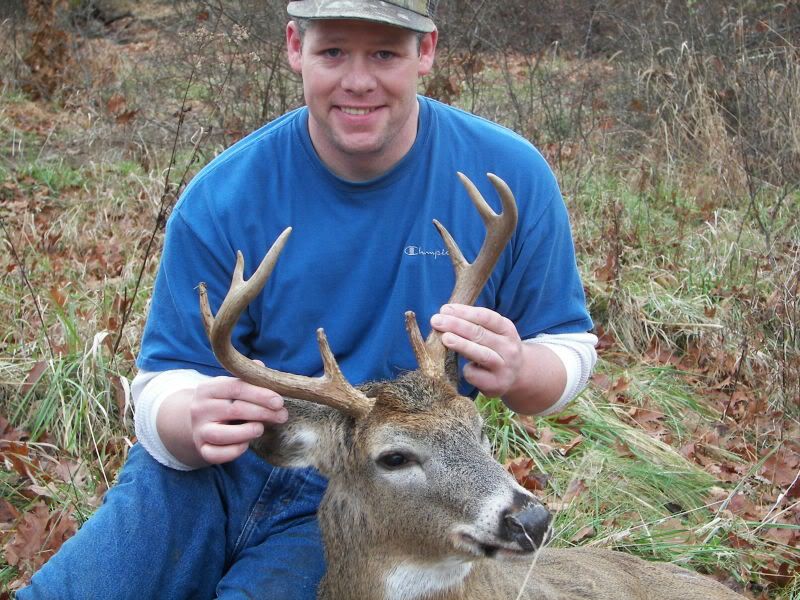 Guys please call me at 732-449-5950 to arrange for your mount to be done ASAP.
I would like to thank all the people who participated in the contest. As I said before next years contest will go back to the old way we used to do it, the biggest score in each class (Bow & Gun) will be the winner, the way we did it this year did not work very good. There were too many other people to depend on. Congrats to all the hunters who entered.