Discussion Starter
•
#1
•
I figured I would share my progress on my deer blind build. The finished product will be 6x6' platform (estimated) 7 foot tall in the front 6'6" in the rear, pitched roof. Build on a 2x6" platform framed with 2x4'"s. All wood is pressure treated. The walls I haven't decided on yet. Probably will not be pressure treated, just primed and painted. I'm using elevator brackets to get a nice angle on the legs. Will be sitting on 4-10' 4x4"s. The 4x4"s will have cross bracing and bracing going around the bottom from post to post. I originally just used the bracing you see on the platform as just that, bracing. I now changed the bracing to be flush so I can anchor my 5/8" floor into it. FYI I'm not a carpenter and never did any real wood work before so any advice is appreciated. Don't mind the messy garage during this project
. I'll edit and post more pictures as I go along.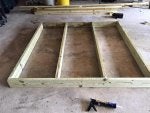 6x6" platform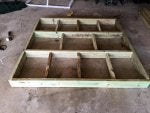 platform originally braced (now flush)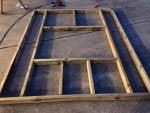 front framed out with shooting window. window will be horizontally split and hinged to allow a smaller opening for gun use and a large for bow (shooting standing up).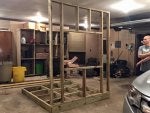 Just checking to make sure the front lines up ok before installing the floor (and admiring my work [hihi] )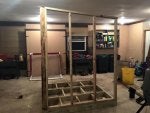 Front and side tacked together to check fit. Pitch is a 6" drop to the rear.